To optimize your patients' experience and exceed their expectations, having an optimized dental clinic management is essential! Several strategies can be put forward in your clinic to improve your patient's experience. In order to exceed expectations, it is essential to know and understand them well.
Many people are afraid to go to the dentist, so much so that they feel anxious the day before the appointment, and others have a phobia of visiting a dental office. Indeed, according to a study, 48% of the population in France is anxious to go to the dentist! This is because they have had a traumatic experience in the past that makes them afraid to feel pain.
The field of dental health has long had a precarious reputation, but don't be afraid to undo the prejudices and show your patient that what is at the heart of the mission of Quebec's dental owners is the patient experience!
Discover the best practices in dental clinic management to optimize the patient experience and thus improve the image of these professionals who care about the oral health of their patient.
First of all, what is the patient experience? A definition of the patient experience
The patient experience is defined by how the patient perceives their passage through your office. This experience is not based only on the treatments the patient receives! It is a summary of the interactions with your team and the events they experienced during their visit.
Before you set foot in your institute, the patient already has certain expectations about their appointment, your employees and their performance. Depending on the course of the appointment, the expectations will be validated or invalidated, which will have a positive or negative impact on their experience. Each person has a different perception, which is why it is important to maximize the attention given to each patient to provide them with the most positive patient experience possible!
8 valuable tips to optimize your patient experience in dental clinics
#1 Create a warm and welcoming environment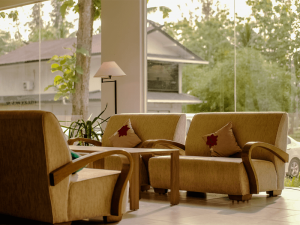 While the patient experience begins before your patient sets foot in your dental clinic, it is important to provide a cozy environment to keep your patient relaxed. Every place visited by the patient must be friendly and soothing. A warm and welcoming environment is an asset for excellent dental clinic management. In order to create an ideal environment for your patient, it is important to know them well!
Your dental clinic management style may already target a particular patient! Is your clinic more family-friendly? Aim for a fun and friendly atmosphere for families. Colourful and educational posters, as well as decorations, with beloved characters from children will help you create a family-friendly atmosphere at your clinic!
Do you specialize in beauty treatments? If you are more focused on the cosmetic aspect, you can aim for a spa or studio atmosphere! Warm lights and a glamorous decoration will help to create this kind of atmosphere.
A – The waiting room
All patients go through the waiting room, so make sure this room is comfortable! Be sure to offer them a pleasant, cozy climate that will make them feel comfortable during the waiting period. A well-decorated waiting room, with soothing colors and warm brightness will make your patient feel zen throughout the wait and make the patient experience more enjoyable.
If you have screens in your waiting room, feel free to use them to highlight information about your clinic or to share educational dental health content. In addition to informing and entertaining patients, it will help pass the time! A winning formula to improve your dental patient experience.
B – The exam room
The exam room is a stressful place for some people. The atmosphere of it is not to be overlooked! In addition to professional degrees that reassure patients about their skills, why not decorate the exam room? Adding a little of your essence will only make this room warmer for those who visit it.
Display your colors and promote soothing art! These can be paintings made by a local artist you love and want to offer visibility to. Position them strategically, for example, on a wall facing the dentist's chair. This will allow people in your chair to be entertained during the appointment and have something fun to watch!
Why not put a nice poster on the ceiling too? This will calm the patients when the chair is down and you perform the necessary treatments. If this treatment is painful, it allows the patient to focus on something other than pain. A poster with quotes or multiple items to look at is a good strategy for distraction in the exam room.

#2 Make the wait pleasant
Once you have organized your ideal waiting room with a soothing environment to reduce the stress of your visitors, you must ensure that the wait is as pleasant as possible! Several strategies to optimize the patient experience can be put forward to entertain your patients while they wait for their appointment.
Keep patients entertained
It's no secret: no one likes to wait! Make sure the 5 senses are filled while your patients are waiting and it will pass much faster. Here are 5 practical tips to help you do this:
A) Play relaxing music in your waiting room, it will increase the mood of the patients and relax the atmosphere. This will allow you to create a pleasant background frame rather than make your patients wait in silence or with a humming-like background noise.
B) Do you have screens in the waiting room? Take the opportunity to broadcast educational and captivating content on the dental field! This can be custom content designed specifically for your clinic. Take the opportunity to introduce your visitors to dental tools to familiarize them with them. In addition to entertaining the patient and offering them something stimulating to watch, it will educate them about your specialties and the various services you offer. If you don't have screens, don't panic! Magazines, newspapers and magazines are also a great way to pass the time. Keeping visitors entertained is a great dental clinic management practice to ensure that the patient experience is the most positive, even while waiting!
A little earlier in the article, we suggested that you distribute personalized content. Why not take the opportunity to create a short visual presentation to your image that presents your business? You can broadcast it on your waiting room screens! In addition to entertaining your patients, it will educate them and allow them to learn more about your culture and, in addition, it will strengthen your brand image, which will be beneficial in terms of patient experience.
C) Why not spread relaxing essential oils? Patients and your staff will be delighted and you will ensure a relaxed atmosphere!
D) Invite your patients to sit in comfortable seats while waiting. Having cushioned chairs in the waiting room will help your customers stay relaxed while they wait for their turn.
E) Offer them a good drink to sip upon their arrival to make them wait until the time of the appointment. It can be a hot drink, water or even juice for children!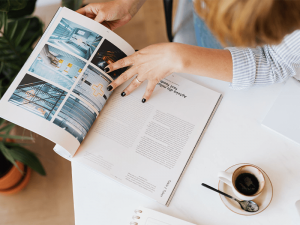 Being entertained stimulates your patients while waiting. The more entertained they are, the less time they will see passing and the more enjoyable the wait will be for them! In the digital age in which we live, most people will bring their own means of entertainment: their cellular or smart tablet. Why not accommodate them with free Wi-Fi for your patients? This will create a « WOW » effect for those who want to enjoy it and those who do not have mobile data will be very grateful to be able to entertain other than cleaning their apps on their phone! A winning formula to make your patient experience memorable!
Manage the wait times expectations to ensure dental clinic management that will optimize patient experience
Keeping visitors entertained makes the wait time seem shorter or at least faster! However, emergencies or contingencies can occur, which is why it is important to manage your patients' wait time expectations. This aspect should not be neglected since waiting is one of the greatest causes of dissatisfaction. Indeed, a study shows that 80% of patients would be less frustrated if they knew the length of the wait time.
Even though you have limited authority over wait times, you have control over how people experience wait times. To improve the patient experience during the wait, let them know how long it will take before they are called for their appointment when you know there is a delay. If you have screens, you can even use digital signage to indicate wait time! You can display a list of patients with the time they can be supported, for example. Managing wait times expectations is a great dental clinic management practice to optimize your patient experience!
Offering a sincere apology for the extended wait time can help reduce the frustration felt by those who have waited. It turns out that a personal excuse from the doctor can minimize the frustration of 70% of patients. This is understandable: if the dentist takes the time to apologize for their delay, it shows the patient that we care about them and that we are sorry to have made them wait longer than expected.
#3 For optimal dental clinic management and an optimized patient experience, you need to build a strong team and motivate your employees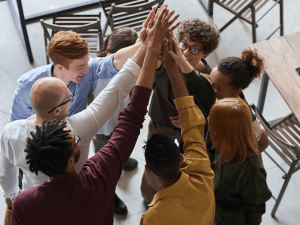 Your employees are your company's showcase! They are the ones who make the first impression of your clinic : from booking an appointment to billing at the end of it. For this reason, it is important that each employee who interacts with the patient provides a courteous and professional service.
Employees who communicate well and whose priority is the well-being of your patient are the kind of employees you want in your team to ensure good dental clinic management. Indeed, if your employees at the front desk call the patients to follow up the day after a painful treatment, for example, it will create a huge sense of comfort for your patients and strengthen their sense of belonging to your dental clinic. They will feel pampered to see that they are your priority even when they leave your office! This is something that can make a difference in the patient experience!
It is important to surround yourself with a team that shares your vision and values so that it reflects the culture of your company. This way, you will never be worried about the interactions between your team and the patient. By surrounding yourself with people who share the same philosophy as you, you ensure that you have a strong, motivated and effective team that will communicate well internally. Once you find your ideal team, it's important to maintain it well. Make sure your employees are happy in their day-to-day work.

Give them feedback to improve their patient experience, but also to motivate them and show them that they are doing a great job. If your employees are happy, it is felt! This relaxes the atmosphere and patients will be proud to encourage a company that takes care of its employees..
A platform like InputKit provides feedback to assess the patient experience your employees offer on a daily basis. In addition, this solution automatically transmits positive feedback to your staff!
In general, there is a tendency to be proactive when a service deficiency is raised by a patient, but it is relevant to be as rigorous in sharing praise to keep the team motivated. InputKit is a great tool to save time while sharing what is essential, which is the positive feedback your patients give to your team.
#4 Integrate technologies
This may surprise you, but your patients are intrigued by the dentist tools you use every day in your clinic! Outdated dental equipment is rather disappointing for the majority of people who visit you. Integrating advanced technologies into your dental clinic is beneficial in terms of patient experience for several reasons :
From a dental clinic management perspective, having state-of-the-art tools reduces production costs as well as time spent on the chair by your patients! These are very good cuts.
A) Your patients are interested in the tools you use to treat them, most are excited to learn about new technologies. Why not take the opportunity to add information about this on your website or on the floor when you use them? This will strengthen the relationship with your patient and educate them and show them that you are a trendy clinic!
B) Modernize your clinic as much as possible: in-room as well as online! Having a modern website that allows patients to book an appointment online will save your team and your patient time.
C) Have tools in place to confirm appointment booking and send reminders via text and email. This will allow your patients to avoid forgetfulness and know when they should be in your dental clinic.
D) Set up automated satisfaction follow-ups via text messages and emails to find out how satisfied they are following an appointment. In this case, the InputKit solution is an optimized platform for sending customer satisfaction surveys via SMS and emails! InputKit has real expertise in the dental field and patient experience with many customers in this industry. Our team will guide you through best practices to create a successful patient experience!
E) With technology, automate sending positive customer feedback to your staff for greater motivation at work. InputKit Patient Experience Solution lets you send such feedback!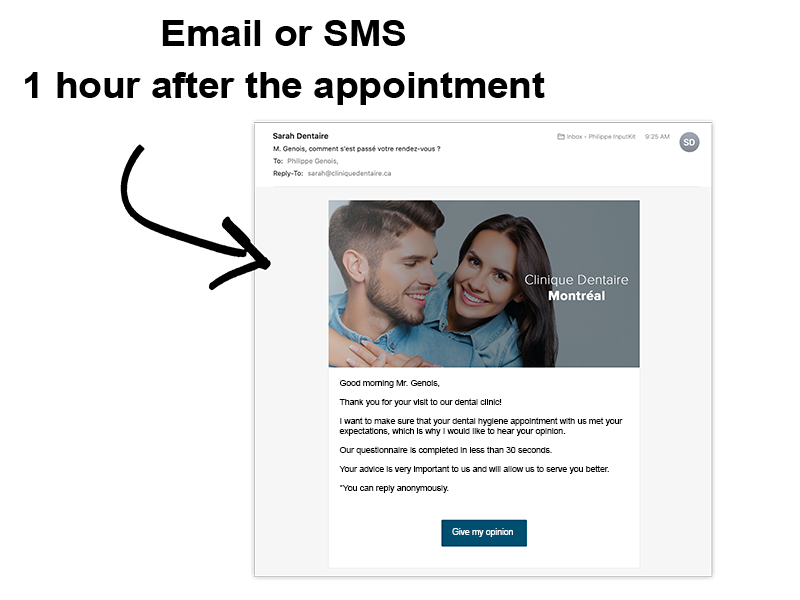 #5 Clarify the experience that will be experienced through a treatment plan
Patients know this, and that's why they come to you: YOU are the experts! You are these professionals in whom people trust so much that they entrust them with something as precious as their teeth..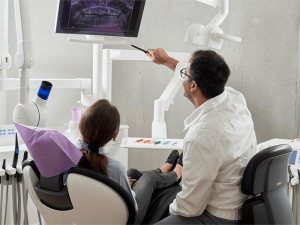 While you are the masters of your field, it is important that the people you treat understand the treatment plans that are presented to them. By providing clear explanations, this will only strengthen the climate of trust. Not all of your patients are dental experts like you. Good dental clinic management takes into consideration communicating with patients and ensuring that patients understand the proposals presented to them. For a good patient experience, it is important to vulgarize the concepts and scientific jargon, so that your patient is on the same wavelength as you and has an optimized patient experience.
Vulgarize to make yourself understood
You've probably had a concept explained to you in an area that you're not very familiar with and you don't understand it. It never brings about a positive experience when you come out of a place with more questions than when you got there!
For example, you come to the garage for regular maintenance. Once the work is completed, your mechanic will come to you to give you your keys. Your knowledge of mechanics comes down to : knowing how to fill your gas tank and your windshield washer tank. The mechanic approaches you to talk to you about a problem with your car and this problem seems serious! They explain everything to you in terms that you don't know, that you don't necessarily understand, and they give you an estimate with a staggering cost.
You ask him questions in order to understand the problem in order to make an informed decision, but they simply repeat their mechanical jargon, without giving you a clearer explanation. The chances of you getting out of the garage completely satisfied with your experience are rather slim. Not only do you still not understand the problem with your vehicle, but in addition, you feel like you are being fooled and you no longer know whether you should trust this company.
It is frustrating to not understand what is being explained in any field, and some people are embarrassed to admit that they did not understand the information, even though it is rather technical.
Clear the gray areas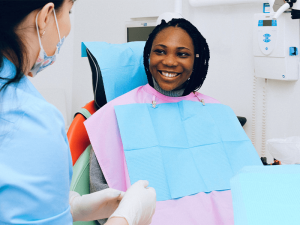 Take the time to explain the next steps of the treatment plan to your patients. Make them a drawing if there are no simplified terms to explain what needs to be done for their oral health! Above all, ask them the question: were the explanations clear?
If the answer is no, you have a great opportunity to clear a grey area and educate your patients. Ask them if they have any fears and demystify them with them. This will strengthen the relationship you have with your patients and their experience will be much more satisfying if they understand what they are getting into! Clarity and transparency are two important aspects of a great patient experience.
#6 Build a culture based on continuous improvement
To be the best in your industry and provide a good patient experience, you need to constantly improve. Even if you are undoubtedly already excellent in the functions you perform, we can always improve, but we can never reach perfection! This is not to discourage you, but to emphasize that continuous training is beneficial to ensure optimal dental clinic management.
In a rapidly changing world, attending dental clinic management training will always be relevant, even if you have been in this role for a long time. This allows you to learn more about what you are passionate about and sometimes reconnect with certain concepts that you apply less on a daily basis.
In order to improve, another essential practice is listening to your patients' feedback and asking them about their experience. If your patients point to an area of service that they feel is lacking, see their feedback in a constructive way! Think of it as an opportunity for improvement and work on it.
#7 Have a user-friendly website with a simplified appointment booking
Your website says a lot about your business! If the interface is difficult to navigate and the information is not up to date, this can be discouraging in terms of patient experiences for those trying to learn more about you. By having a user-friendly and up-to-date website, it makes them want to make an appointment to visit your dental clinic! If you have a blog section, take the opportunity to showcase your knowledge and the services you offer.
Give your patient and future patients the opportunity to make their own appointments on your website. This can be an interactive calendar that is linked directly to your dental clinic software to allow people to schedule their appointment on the web. This will save your receptionists time and people who are afraid of phone calls will be very grateful to have this opportunity!
#8 Be sure to follow up after the appointment via satisfaction surveys
Good dental clinic management is a management that accompanies the patient even after they leave the clinic. Following up on your patient's satisfaction after their experience will allow you to have a clear picture of the service your team provides on a daily basis. It is impossible to be everywhere at all times, which is why asking your patients about the experience they have just experienced will be beneficial to you!
Patient satisfaction surveys are an excellent way to identify relevant areas for improvement. These surveys will provide you with valuable information on how you can improve your dental clinic management. In addition, it will allow you to collect feedback on your employees to properly assess and motivate them by showing them that they are doing a good job! These surveys are essential to understand your patient and their expectations.
Benefit from the InputKit Patient Experience Solution to measure your customers' current experience and optimize your practices
To ensure excellent practice management in your clinic, it is important to measure the patient experience! An ideal way to achieve this is to have an automated solution via text messages and emails that will send surveys to patients at the best time. Timing is very important when it's time to ask a person about their experience.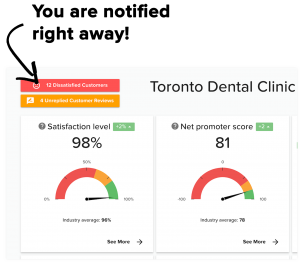 Think of this as a complement to a patient's dental record : in addition to having factual data such as age and gender, you will have access to their feelings about their experiences. A platform that measures patient experience like InputKit is a must for dental clinic management! It allows you to compare yourself to the industry average, and to have an easy and quick analysis to understand the aspects that can be improved and target what is already working well. Plus, with InputKit, you can respond to patients right on the platform! This allows you to close the feedback loop and create engagement with your patients who will feel that their feedback is important, is making a difference, and that you care about their well-being.
Finally, we hope this article has introduced you to some new dental clinic management strategies to try in your practice to improve the patient experience. Once your new strategies are in place, why not try to see how they have a positive impact on the patient experience? If you're as curious as we are about the quality of service you offer on a daily basis, plan an appointment with us to discover the InputKit platform.
In addition to sending surveys automatically, you can track results in real time through satisfaction indicators and be alerted in real-time when dissatisfaction is detected.
With that, we wish you a good optimization of your patient experience in your dental clinic!