It is currently difficult for companies to attract and retain talent in business! This situation occurs in Quebec and all over the world. For us, this situation is due to many factors.
 According to Étienne Claessens, President at Soluflex Rive-Sud, this context was created for us due to three main causes: the overbidding linked to the shortage of labor, covid and its upheavals, then the delay of our province compared to the rest of Canada.
To stand out as an employer in this lack of employees, you have to be ingenious. Creating a positive and memorable employee experience will become your best ally. To motivate your employees internally, it is important to set up an employee evaluation meeting process that is both dynamic and relevant. In this article, learn everything you need to know about employee performance reviews. We explain how to improve your processes for employee evaluation meetings thanks to several tips. Without further ado, let's go!
Download now: -> Free french recorded webinar: How to become a top employer during this period of salary increase?
What are employee evaluation meetings?
Definition of an employee evaluation meeting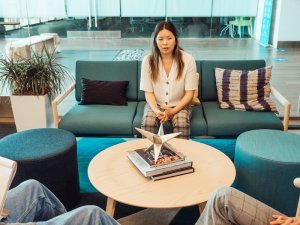 An employee employee evaluation meeting is a formal moment to discuss an employee's performance over the past year. Based on established objectives, the employee is offered feedback related to the work provided. This moment can be stressful for the employee, because they know that they are judged according to their performance and the work accomplished. Knowing that this moment can be crucial, as a manager, put all the chances on your side that it goes well!
Why is it important to conduct employee evaluation meetings?
Employee evaluation meetings help to motivate your employees.
Employee evaluation meetings allow continuous improvement in business.
Employee evaluation meetings help to have more clarity about the work needed to be done.
Employee evaluation meetings allow salary to be adjusted based on actual performance.
Employee evaluation meetings make it possible to adjust the elements to be improved if necessary and to plan development training.
Employee evaluation meetings simplify priority management.
All in all, performance appraisal helps you improve as an employee and as a manager!
​​11 Tips for a Successful Employee Evaluation Meeting
1.Choose a private place
For an employee evaluation meeting to have the desired positive effect, it must take place in the right environment. As mentioned earlier, this can be a stressful time for your teams. Give them the privacy they deserve so they can express themselves freely. Choose a closed room, well soundproofed if the meeting takes place face-to-face. If the meeting takes place in a virtual meeting, aim for the two interlocutors to be in discreet places in their respective environment. Keep this tip in mind as an example when planning an employee evaluation meeting!
2. Communicate the agenda in advance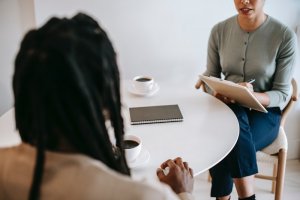 To give your employees confidence in view of the employee evaluation meeting, why not give advance notice of the agenda and the topics that will be discussed during the meeting? This can give the employee confidence and allow them to prepare when needed. Send everything within a reasonable time, between 1 and 2 weeks before the meeting. Take the opportunity to ask the employee if they would like to discuss topics that were not covered until now. You will maximize your employee evaluation meeting by taking the time to cover several key topics! Work performance will definitely be impacted by your ability to listen to your employees.
3. Focus on the positive
Although it is completely normal for your employees to have areas for improvement, we recommend focusing on the positive. What makes your employee a pleasant person to be around at work? How does your colleague excel in his position? Giving positive feedback will have a direct impact on the motivation of your teams. In addition, when you address positive elements, highlight concrete examples and the impacts that these behaviors/good moves have had on your teams. Finally, you should address elements related to skills as much as their interpersonal skills within the company. Focusing on the positive will benefit you since your employees will feel recognized for their work.
4.  Adopt a constructive approach for the elements to be worked on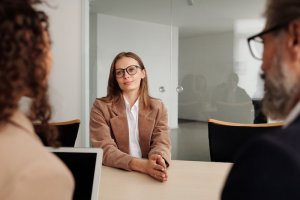 As mentioned previously, we want to emphasize the positive during employee performance appraisal meetings. However, it is completely normal and constructive to discuss elements on which there is room for improvement. It's all in how you present things! Be honest and transparent when evaluating performance. If certain objectives are not achieved, try to illustrate the importance of these elements within your company. Then let your colleague express why he/she thinks this is so. In addition, as with positive comments, focus on concrete examples. Your comments will be based on real facts and everyone will be on the same wavelength. Even though sharing elements for improvement is not always easy, this is a must!
5. Provide feedback throughout the year
Definitely, you shouldn't wait for annual Employee Evaluation Meetings before providing feedback to your teams. Giving feedback should be done on a weekly basis. In this way, you offer your team's opportunities to improve throughout the year and you maximize motivation at work. Make sure you are in constant dialogue with your teams. Nowadays, several technological tools exist to maintain continuous communication, despite a busy schedule. Internal chat tools, video conferencing tools, solutions like InputKit that allows you to transmit positive comments from customers to your teams: the options are numerous. Thus, by communicating throughout the year with your employees, you will avoid unpleasant surprises during your performance reviews. Communicating regularly with your teams will have many benefits in terms of the overall climate within your company. Integrate daily feedback processes and your whole company will benefit!
6. Plan plenty of time

This advice may seem trivial, but setting enough time is crucial for an employee evaluation meeting. If you're feeling rushed, you won't take the time to cover every topic. To make your employees feel important, it's important to spend time with them. Plan a minimum of one hour depending on the topics to be covered during the employee evaluation meeting. Adapt according to the type of person you will meet! Giving time is a form of respect that should not be overlooked. In addition, why not reiterate the time allotted for the meeting from the outset, at the very beginning of the employee performance evaluation? Do not hesitate to plan even more time if necessary if the established meeting is not enough. This will demonstrate that you are flexible, a key quality that will please your teams!
7. Prepare well as a manager
As a manager, it is important to prepare well for the employee evaluation meeting. Plan the agenda of your meetings in advance using strategic vision. Tailor your approach to the different members and personalities within your teams. If necessary, why not seek the help and expertise of human resources professionals? They are trained to know how to manage this kind of encounter well. They can also shed light on trends and new practices to adopt around employee evaluation meetings.
8. Favor an overall positive attitude, a climate of listening and trust
The climate you establish with your teams will have many impacts on the perception of the messages transmitted during the performance evaluation. A positive and trusting climate is built throughout the year, not just for the annual employee performance review. To create a positive and pleasant atmosphere, get to know your colleagues well. Organizing group activities can be a great opportunity to build positive relationships. After all, your employees are humans with specific emotions and interests! Take the time to discuss what excites your teams. Definitely, you will come out a winner, since the positive relationship you will have built will be felt during your employee evaluation meeting. A positive and trusting climate is created throughout the year, keep that in mind!
9. Let your employees speak
A big mistake around the employee evaluation meeting is not letting your colleagues speak. Such a meeting is not a monologue, but a discussion! In this sense, set aside certain times for your employees to express themselves. Use open-ended questions and take notes of feedback obtained during employee performance reviews. The end goal is to have a constructive meeting and the feedback from your employees is very important. Keep this advice in mind during your future employee evaluation meetings.
10. Define specific and measurable objectives in advance
Employee evaluation meetings should be based on measurable and clear objectives. Each year, create specific objectives with your teams so that they know how much effort to give throughout the year. Ambiguous and fuzzy goals can downright demotivate employees because there is no clear direction. Be proactive and set goals well in advance of your employee performance review meetings. Your employees will therefore want to give the best of themselves to achieve these objectives.
11. Ask the appraised employee how they found the performance meeting
It is not only your employees who can improve, but you can also improve yourself as a manager! To improve and conduct increasingly relevant assessments, why not send follow-up questionnaires to your employees? Ask them about their perception of your performance review meeting. This way, they will be able to offer clear ideas for adjustments for the next few times. You can also see if they like the current formula. Moreover, for this purpose, know that InputKit is an excellent solution for sending internal questionnaires to your teams. A multitude of surveys are available for your solutions to question your employees according to your specific needs, including surveys following annual evaluations. Interesting isn't it? All in all, asking the opinion of your colleagues following employee performance evaluations will be beneficial.
How InputKit's solution could help you with employee performance evaluation?
InputKit is a turnkey solution for creating a good corporate employee experience. First of all, our customer experience solution allows you to question your customers following a service delivery. If the comments are positive, these can automatically be shared with your employees to maximize their motivation at work. In addition, our clear and effective dashboard will allow you to have an eye on the performance of your employees through individual customer satisfaction scores. This will make it much easier for you to provide accurate feedback during your employee performance review meetings..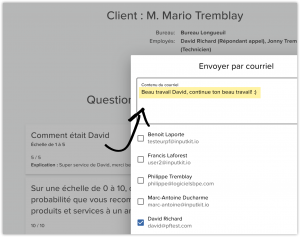 InputKit has also launched a brand new employee survey platform. Exit interviews, surveys to evaluate the onboarding of new employees: the possibilities of surveys are multiple. Throughout the year, you will be in direct dialogue with your teams to avoid unexpected findings at the end of the year. It is an essential tool for maximizing the retention of your current employees and becoming a better employer.
Finally, we hope that these 11 tips for evaluating employee performance will be useful to you. It is important to see these meetings as moments to highlight the success of your employees and set clear objectives for the coming year. To this end, InputKit can help you throughout the year to continuously dialogue with your teams. This is an advantage that should not be overlooked. Contact us for a free, no-obligation demonstration. We look forward to taking your employee experience to another level!