The tourism and hospitality industry is a growing field. More than ever, people want to escape, travel and discover the world. The customer experience, or tourist experience, in this context, is particularly important, since many players offer their services to visiting tourists: hotels, restaurants, resort activities and more!
In this article, more specifically, we will discuss the subject of customer experience in the hotel sector. How to create a memorable experience that will retain your customers? How to create a hotel questionnaire to evaluate and improve the experience lived within your establishment? Without further ado, discover our hotel survey questions  and all you need to know about it!
What is a Hotel Satisfaction Survey?
Definition of a hotel satisfaction questionnaire
A hotel satisfaction questionnaire is made up of a series of questions aimed at evaluating the tourist experience in hotels. The idea is to evaluate several areas of the stay, such as the courtesy of the staff, the cleanliness of the premises and the warm aspect of your establishment, for example! Later in this article, we will discuss in more detail the key criteria to evaluate. In addition, we will give you hotel survey questions and examples to help you!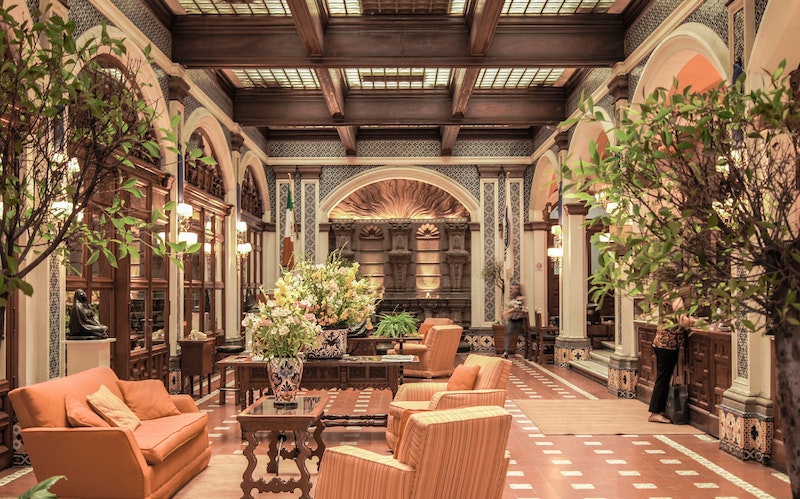 Why is it important to create hotel survey questions?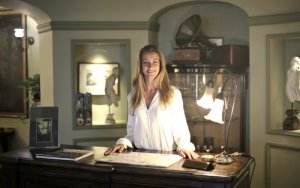 It is important to create questionnaires for hotels, since reputation in the field of tourism and hospitality is very important. This is a prestige-based field, especially because of the stars given to such establishments. The better the customer experience, the more people will want to stay at your hotel and come back again. In addition, your satisfied customers can become your ambassadors who can speak well of your establishment. Having satisfied customers will be favorable for your company's turnover. Word of mouth is an element that should not be overlooked in terms of your hotel's good reputation! It costs less to retain existing customers than to spend to acquire new ones. In this sense, it is worth making efforts to wow your current customers to make them come back again thanks to a successful tourist experience! Since you now know the importance of creating hotel survey questions, we will offer you a concrete example of a hotel questionnaire.

What are the components of the guest experience within a hotel?
Several elements impact the customer experience in hotels. When we talk about customer experience in this industry, we are talking about customer interactions with your business from the hotel search process to the very end of the stay. In terms of elements that impact the customer experience within hotels, we think in particular of the following aspects:
Easy to book
Price
Flexible cancellation policy
Reception within the hotel
General courtesy within the establishment
Baggage handling on arrival
The decor of the place
The conviviality of shared spaces
Room cleanliness, room decor, room space
Housekeeping frequency
Support responsiveness when needed
A quick and hassle-free departure
Access to a local guide for advice (activities, restaurants)
Personalization of the experience
Overall, we want to provide a memorable and frictionless tourist experience during the customer experience! That's why as a hotel manager or customer service representative, it's important to pay attention to every little detail and most importantly, every feedback from customers. Each element can have a significant impact on customer perception. The overall lived customer experience must create a WOW effect so that your customers become ambassadors of your organization! Your ambassadors are your greatest hotel marketing allies! Rely on the best practices from our sample of hotel survey questions to create a successful experience.
What are the steps to create a hotel satisfaction questionnaire?
1. Hotel Survey Questions: Think about the elements you want to evaluate
Want to rely on best practices from the best hotel survey questions? In this case, first and foremost be sure to determine what you want to assess within your institution. Would you like to assess the quality of the service offered? Would you like to assess the quality of the food offered in the hotel restaurant? Want to rate the cleanliness of the rooms? All these aspects will have an impact on the choice of questions asked in your hotel satisfaction questionnaire, for example. To know which elements can be evaluated, it may be interesting to rely on the examples of elements listed in the previous paragraph entitled What are the components of the customer experience within a hotel? By keeping your goals in mind, you will make sure to follow the best practices from the sample hotel questionnaire and create a relevant questionnaire!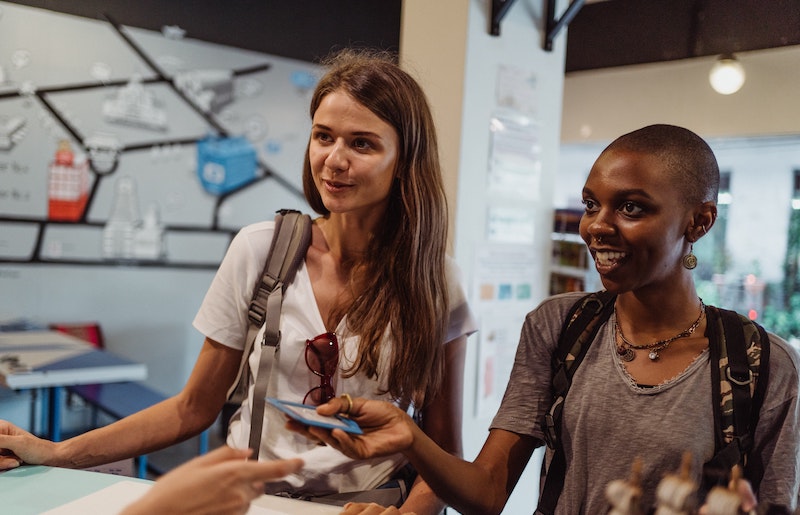 2. Formulate the questions you want to ask
When you know your business objectives well and have a good idea of ​​the topics to cover in your various questions, it's time to get started! To do so, rely on the best practices from these hotel survey questions. 
Example of a hotel questionnaire: Some best practices for hotel survey questions
Keep your questions short, clear, and direct
Be sure to opt for the funnel method, aiming to ask more general questions first and then more specific questions.
Customize the email or text message in which your satisfaction survey will be sent
Try to standardize the way your questions are asked

Here is our example of hotel survey questions
Examples of questions to ask in a hotel questionnaire
Example of a hotel questionnaire: Questions to evaluate the Customer Effort Score (CES)
The Customer Effort Score is used to assess the degree of effort that the customer had to invest during the experience with your hotel. In this sense, in the context of a questionnaire evaluating the CES (Customer Effort Score), it is recommended to compose your answer choices by proposing various degrees of effort provided. Here are some examples :
How easy do you think it was to do business with our hotel?
Very easy = 1
Easy = 2
Neutral = 3
Difficult = 4
Very difficult = 5
The customer effort score is definitely a good example of a question not to be overlooked in your hotel survey questions.
Hotel Survey Questions : Questions to evaluate the Net Promoter Score (NPS)
What is the Net Promoter Score, specifically for a hotel? This is the likelihood that someone will recommend your hotel to an acquaintance. The more pleasant the overall experience was within your establishment, the more likely it is that you will be recommended, which will generate positive word-of-mouth
Here is an example of a question to assess the NPS:
On a scale of 1 to 10, how likely are you to recommend our hotel to a friend or family member?
Hotel Survey Questions: Questions to evaluate your hotel's Customer Satisfaction Score (CSAT)
The Customer Satisfaction Score (CSAT) is used to assess the overall satisfaction of a guest within your hotel. This score is a good indicator of the overall experience.
Did you enjoy your stay at our establishment?
What is your overall level of satisfaction with your stay at our hotel?
Hotel Survey Questions: Other sample questions to ask:
What do you think of the reservation process within our hotel?
How easy do you think it was to book at our hotel?
Do you have any comments on the price of your stay?
What do you think of our current cancellation policies?
In your opinion, following your arrival, was the welcome at our hotel appropriate?
Was the staff courteous to you throughout your stay?
Were your luggage properly taken care of when you arrived?
How did you find the decor of the place?
How do you find the shared spaces within our hotel? (Restaurant, reception, swimming pool, etc.).
How would you rate the cleanliness of your hotel room?
Do you think your room was cleaned frequently enough?
If needed, did you have the necessary support from our concierge team?
How did you find the check-out process at our establishment?
All in all, it is your responsibility to determine the questions that will be asked in your own questionnaire, based on our hotel survey questions.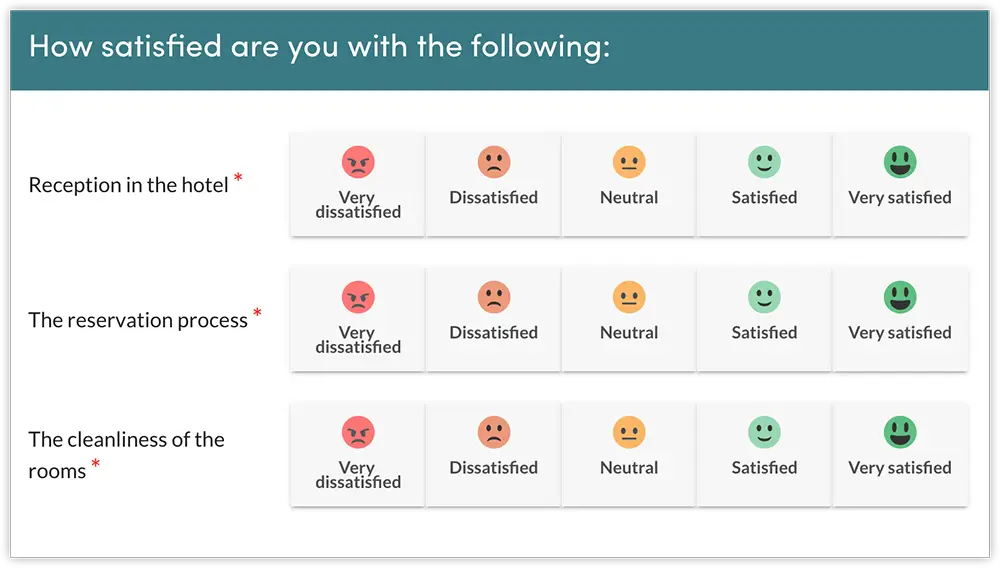 3.  Send your hotel survey questions automatically using InputKit
Once you have composed your questions based on our sample hotel questionnaire, it is now time to think about the optimal sending method. With the InputKit customer experience solution, send the right questionnaire, to the right customer, at the right time. Following a stay with you, a few hours after departure, it is recommended to send an automated satisfaction questionnaire to your customers to evaluate their stay.
The InputKit solution allows you to create personalized questionnaires and program them to be sent via SMS and emails. Thus, you do not have to manually write or call each of your customers to assess the quality of the experience. In addition, thanks to our solution, you can automatically send your satisfied customers an online review proposal on your review platforms, such as Google My Business, Expedia, Trip Advisor, Yelp, Booking.com, and more! So, by having more positive reviews on your online review platforms, you are sure to increase the likelihood that a potential customer will view you positively. Growth in positive reviews will have a positive impact on your revenue. Optimizing your online reviews is a key marketing strategy for your hotel!
With the InputKit customer experience solution, you can also rate your employees based on feedback from your customers. Thus, you will be able to motivate your employees by sharing positive feedback. In addition, you will have an average score per employee, based on feedback from your customers, which will allow you to assess the quality of service offered within your establishment. To optimize your processes, you must first and foremost have better visibility on what is happening within your establishment! This is a key takeaway from this article on hotel survey questions.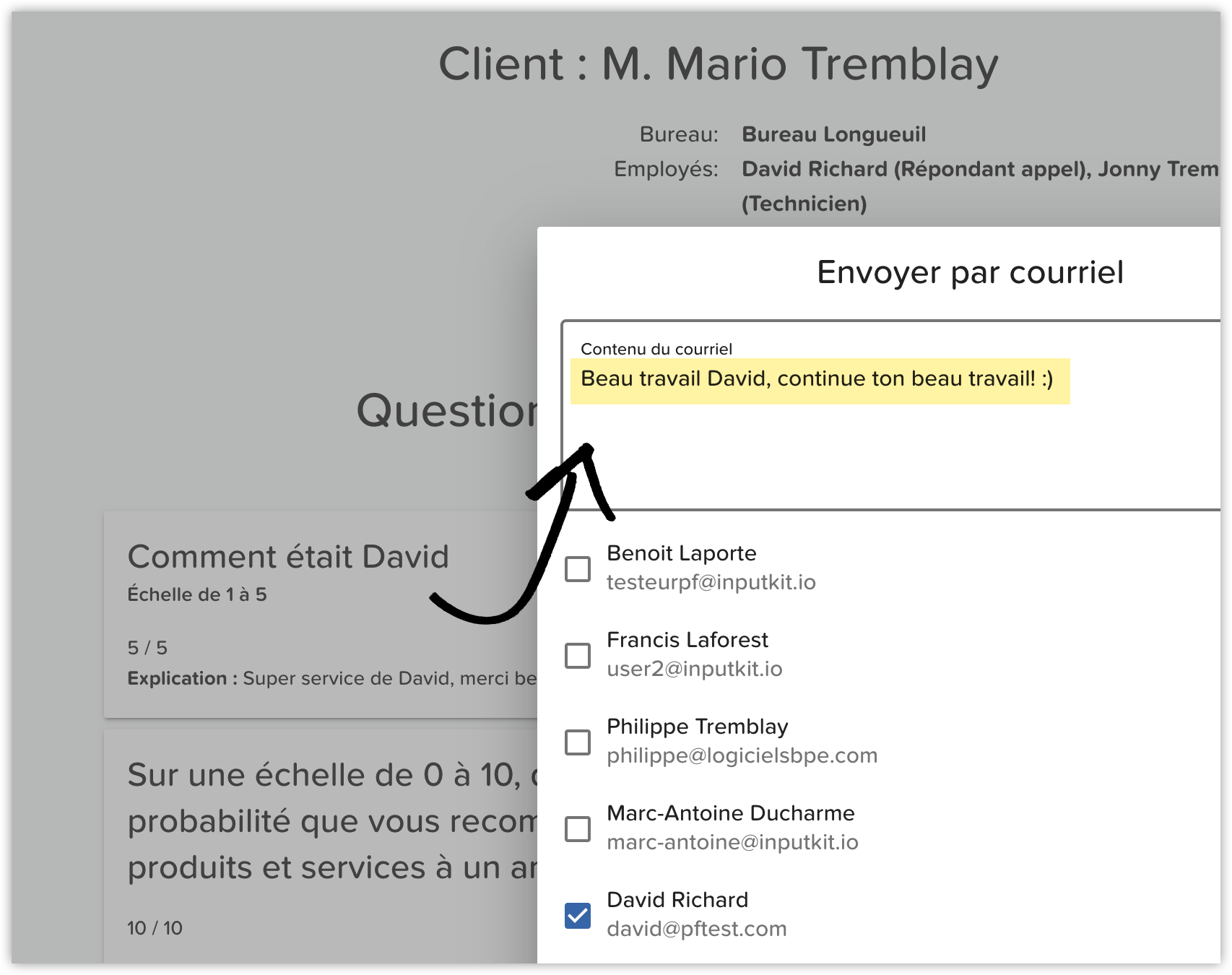 4. Measure the results of your satisfaction surveys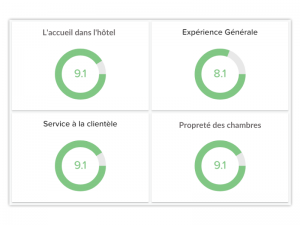 When you take care of sending hotel survey questions, an important step is to measure the results of your surveys to optimize your practices to conclude. Make sure you have an optimized dashboard that consolidates your various performance indicators to ensure you don't lose track of your key metrics. For example, be sure to validate the satisfaction score for your staff members to see if certain practices need improvement. Centralize Net Promoter Score results to assess the likelihood of customers referring you.A customer experience evaluation solution like InputKit offers you a turnkey dashboard that allows you to track your metrics in real-time. Thus, you will be immediately notified if a detail deserves your attention. This is an essential element to ensure a good follow-up of your customer relations!
5. Make sure you optimize practices within your hotel
Do not see more negative feedback as an end in itself, but rather as an opportunity for improvement. Be sure to keep an eye on your customer reviews to spot any big trends. For example, if the results of your questions related to the decor of your hotel, be sure to put in place elements to improve your establishment and bring it up to date. If the score related to the frequency of cleaning of the rooms seems regularly negative, make sure to increase the frequency and the quality of the cleaning carried out. Your key metrics are numbers that speak for themselves and should inspire you to implement changes that will make a big difference. This is how you will be able to improve your hotel customer experience!
6. Make sure to create a committee in charge of customer experience
To ensure that you frequently optimize your customer experience, why not set up a dedicated committee within your establishment? This committee will thus be able to meet, at least once a month, to discuss the priorities to be put in place to optimize the stay of your guests. In this committee, be sure to include people from several departments to ensure that you have a good representation of the various issues raised by your customers. In addition, assigning this load to multiple individuals will optimize processes and reduce perceived workload. Certainly, the establishment of such a committee will be favorable for your hotel!
Finally, we hope that this example of hotel survey questions  will be relevant for your establishment in the field of tourism. Be sure to first determine the customer satisfaction factors you want to assess and then formulate the related questions. Thereafter, program the sending of questionnaires via an automated solution like InputKit and keep an eye on your key metrics via an optimized dashboard. Once you're able to see your key metrics, optimize your practices based on recurring feedback. Do not hesitate to contact a member of our team of experts to implement an effective solution for optimizing customer satisfaction within your hotel!