An excellent organizational culture allows each individual to get involved and stand out in an organization that shares mutual visions and values. Such a structure is necessary to make strategic decisions allowing a company to last through time. In addition, a cohesive, high-performant organization will have a strong chance of innovation in its industry.
Innovation is key to the growth and success of a business. It improves products, processes and services while remaining competitive in the marketplace. By fostering a culture of innovation, companies can stimulate the creativity, collaboration and ingenuity of their employees. This will set them apart from their competitors while creating a great employee experience!
What is organizational culture? How does it help foster innovation in your business? Without further ado, here are 7 ways a good organizational culture can improve innovation!
What is
organizational culture
?
Organizational culture is the set of values, beliefs, behaviors and norms that characterize a business. It has a considerable impact on employees, their motivation, their commitment and the overall performance of a company. 
In addition, the notion of organizational culture constitutes a field of analysis and a discipline of its own. This includes a practice that highlights the key components of an organization while facilitating strategic decision-making. To help you, here are the key elements that can be observed in an organization:
The company's principles, beliefs and values; 

The entrepreneurial objective;

The working climate;

The physical environment of the organization;

Daily rituals (integration, promotion, going out with colleagues);

Company celebrations (major project completion, anniversaries, good work performance, promotions);

Labour standards;

The work ethic;

The company's brand image.
Remember that an excellent organizational culture will have many benefits for your business and your employees. By improving your working conditions and promoting positive values, you will attract many talents to your organization. This will allow you to be innovative and creative in your industry!

7 tips for fostering innovation through
organizational culture
1. Implement an innovation strategy 
To implement an effective innovation strategy, it's important to promote an organizational culture of change and innovation. It needs to define your company's values, attitudes and behaviors. Therefore, to put in place an excellent innovation strategy, it's necessary to create an environment conducive to creativity and the search for new ideas. 
It's also important to make employees aware of new trends of your industry and actively involve them in your company meetings. By including each department in your innovation strategies, you will get an overview of your future projects as well as the various challenges faced by your employees. This is a must for a refreshing perspective that will allow you to differentiate yourself from the competition!  
2. Communicate regularly with your employees 
Imagine: you want to bring new ideas to your business. However, you have no idea what your department's current objectives are. All employees work in silos and your managers limit themselves to transferring an assignment list to you at the beginning of each week. When you ask questions, you constantly feel like you are disturbing your coworkers. Discouraged, you decide to keep your ideas to yourself in order to focus only on the tasks assigned to you.
To avoid this scenario, take the time to communicate regularly with your teams. By talking to your employees about upcoming objectives and ongoing projects, they will be able to better identify current issues. This will allow them to show initiative, autonomy and innovation to get more involved in your organizational objectives. In this way, your talents will be able to develop professionally in an authentic work environment conducive to creativity!

3. Be authentic and transparent
Authenticity and transparency are two essential qualities of a good organizational culture. They can greatly foster business innovation by creating an environment of trust and mutual respect between your employees and managers. 
When your talents feel safe, they are more likely to be creative and take risks. In addition, a healthy organizational culture will generate a sense of belonging and motivation at work. As a result, a good atmosphere at work promotes innovative ideas and teamwork. By clearly communicating your goals and demonstrating authenticity, your employees will want to do their best to ensure the longevity of your business!
So when it comes to organizational culture, promote a work climate based on honesty and transparency. By highlighting teamwork rather than individual success and putting your talents in trust, you will benefit from motivated teams and innovative suggestions. This is an essential asset to differentiate yourself as an employer while continuously improving as a business!
4. Invest in training 
Did you know that training plays an important role in your company's innovation? Continuous learning is one of the best ways to stay curious and flexible about the latest trends in your industry. Therefore, we suggest that you allocate a budget for training your employees to refine their professional knowledge. This commitment will have many benefits for your organization: 
Improve the professional skills of your employees:

Training helps employees develop new knowledge that will be used to continuously improve your services with a view to innovation.

Foster collaboration:

Training encourages collaboration among employees, which can lead to innovative ideas and creative solutions to business challenges.

Encourage creativity:

Training stimulates employees' creativity by giving them the tools and confidence to explore innovative ideas and approaches.

Fostering a culture of innovation:

Training can help develop a forward-thinking culture by encouraging employees to be curious, take risks and think differently.
Never forget that an employee who is motivated and passionate about their work will do their best to contribute to the success of your business. Through training, you can foster innovation and excellence while investing in the future of your talent. Keep this valuable tip in mind to build an organizational culture of creativity and professional achievement!
5. Reward progress and failure equally
It's no secret that it's hard to be creative when you're afraid of failure. That's why it's important to let your teams know that mistakes are an integral part of your innovation process. 
It's impossible to achieve great, unique ideas without making mistakes along the way. It's through these trials and errors that we can better understand the gaps in our business and focus on what works best.
With this in mind, instead of celebrating only major projects and condemning failures, we suggest that you highlight small improvements at all levels of the company. This organizational culture will allow you to instill confidence in your employees through a healthy and innovative work environment!
In this sense, if new ideas don't immediately produce the desired results, it's important to get valuable information from them to improve you in the future. Recognize and thank employees who suggest new practices so they are more likely to share new ideas with you in the future. Such an organizational culture will allow your employees to grow professionally while bringing you new ideas for innovation every day!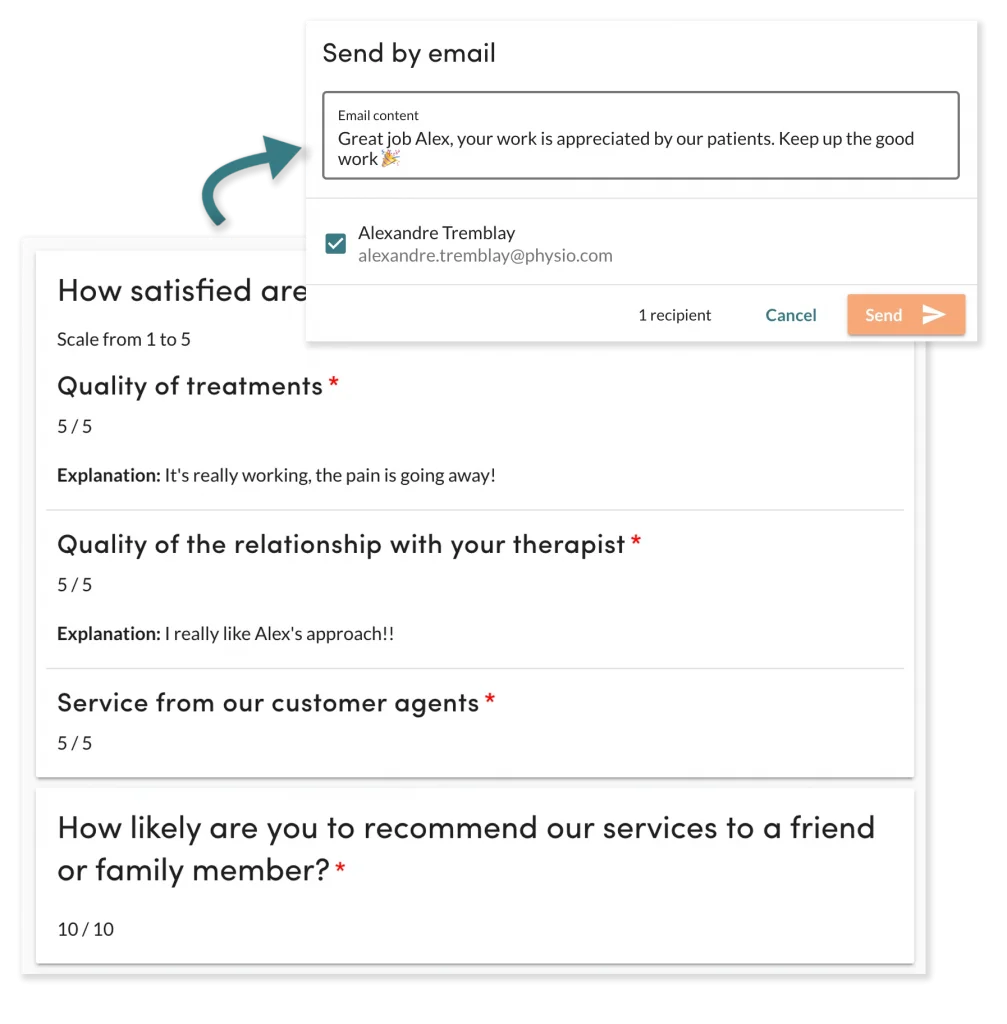 6. Create an innovative work environment
When it comes to organizational culture, creating an innovative work environment is a must to stimulate your talents. Your colleagues need to feel confident in their ability to think and innovate. Avoid micromanagement: instead, emphasize the importance of autonomy by inviting your employees to think and be proactive. This will encourage your talents to make decisions for themselves and, in addition, to get out of the mold! 
At the same time, be sure to constantly gather feedback from your customers to continuously improve. By considering suggestions and comments from your customers, you can gather new ideas to solve certain problems or optimize your processes. Innovate daily: why not offer your customers a highly recommended service? You could even invest in one of the ideas of your marketing colleagues who have investigated the latest trends in your industry. 
New technologies, high-end personalized services, a unique product designed for a specific clientele: there are many ways to stand out from the crowd. By creating an innovative work environment, you will encourage your employees to be innovative and creative in creating the best possible customer experience!
7. Foster cultural diversity
Still on the theme of organizational culture, did you know that recruiting people from diverse backgrounds is not just an ethical issue? Indeed, according to a study conducted by Harvard Business Review, a team with a member who shares a client's ethnic origin is 152% more likely than another to understand that client. This statistic proves the importance of cultural diversity in business!
Values, ethnicity, age, occupation, educational level, beliefs, disabilities and much more: the experiences of your employees have a crucial impact on your innovation strategies. It gives everyone a different perspective based on a unique and concrete experience. So the more diverse you are, the better you will understand the issues your customers are facing and the more flexible you will be in the face of change!
To help you better understand, here are 4 ways in which cultural diversity contributes to innovation:
Having a better knowledge of your clients' needs:

Cultural diversity brings new ideas and perspectives, an essential asset to better understand the specific needs of certain clienteles.

Sharing new ideas:

Employees with different backgrounds bring unique perspectives in the face of business challenges, stimulating collaboration and problem solving through innovative insights.

Improving clients' relationships:

A diverse team will be better able to help clients from different markets and cultures.

Developing an open-minded culture:

A company that values cultural diversity develops an open-minded culture that encourages employees to explore new ideas and think differently.
In general, cultural diversity brings a wealth of different perspectives and experiences that are beneficial for business innovation. Thanks to this organizational culture, these companies improve their chances of success in the market by offering innovative products and services to meet the needs of their diversified customers. That's why cultural diversity is a must for your organization's openness and innovation!
How can the InputKit solution help you build an innovative
organizational culture
Are you looking for a way to improve your company's organizational culture? If so, InputKit Employee Experience is the solution for you!
Through our Pulse surveys, you can regularly check on your employees to identify the various issues in their professional and private lives. Relationships with colleagues, job satisfaction, commitment to work, relationship with managers, work motivation, sense of professional accomplishment, and more: take advantage of our many survey templates to know everything about your employees. If they are demotivated or their performance is down, this is the perfect opportunity to plan a one-on-one meeting with them. By showing that they are heard and considered, you will create a sense of belonging that will motivate them to show initiative and creativity. This is a great way to improve your talents' retention while building an organizational culture of innovation!
Using our one-time surveys, ask your employees to submit their ideas and innovative suggestions to improve their work experience. Similarly, offer to share their creative customer experience ideas. By considering their suggestions, you will create a sense of belonging that will have a significant impact on their participation in future surveys and their commitment to your business. Definitely, it's a must to solve certain problems in an innovative way while creating an excellent organizational culture!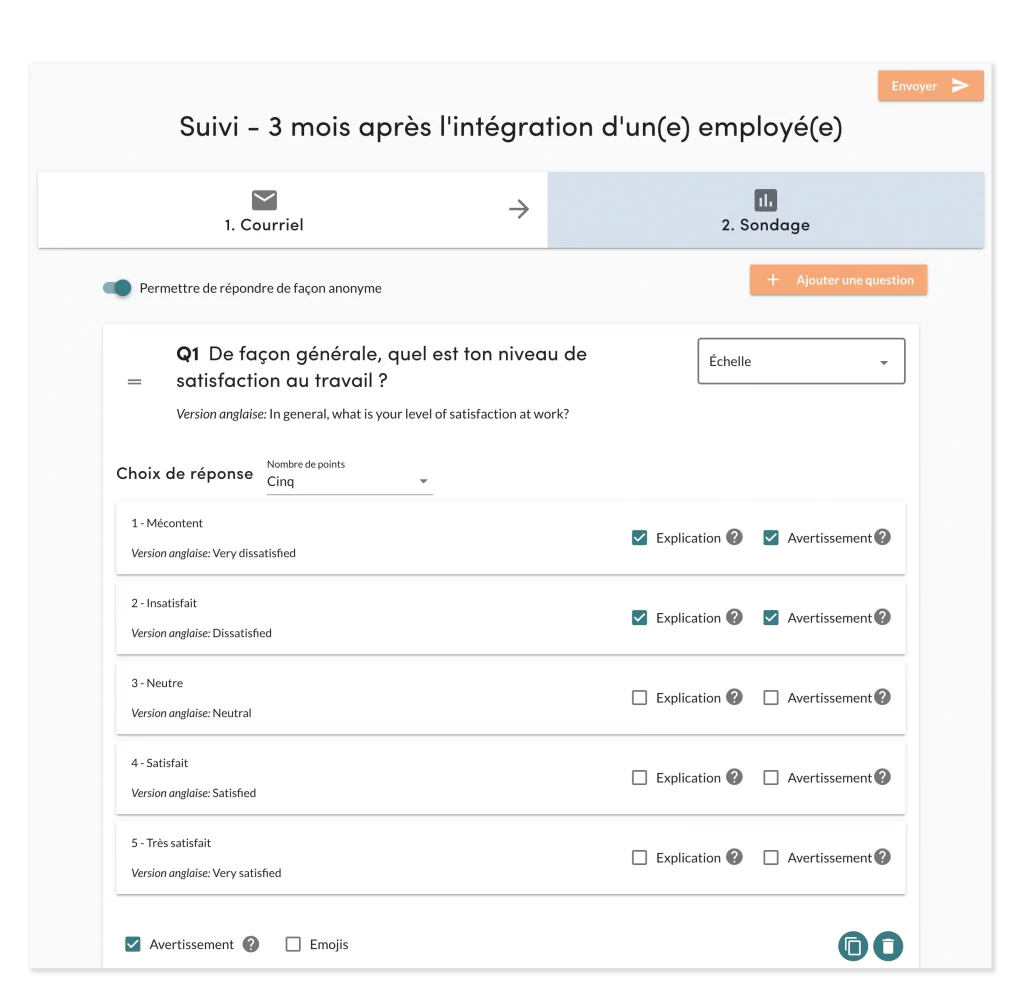 Did you know that our solution has an ergonomic and centralized dashboard? With our automation and performance indicators (KPIs) technologies, you can assess the progress and results of your business innovations in real time. This will allow you to identify areas that require additional attention to continuously improve based on your customers' concrete needs. It is a must-have for creating a superior organizational culture that considers the opinions of its clients! 
In the same vein, our platform also allows you to share feedback from satisfied customers with your employees. By sharing positive feedback and relevant improvement suggestions with your teams, you will foster a pleasant work environment focused on progress and excellence. Your colleagues will be delighted to know that their efforts and innovations are appreciated by all and will be more inclined to give the best of themselves. That's why InputKit is an essential part of fostering innovation in your business!
Do you have any difficulty being innovative? Here are 7 tips to improve the unique value of your products and services through your company's organizational culture!
First, focus on inclusion and cultural diversity to benefit from unique experiences within your company. Next, develop a clear innovation strategy to create an innovative and inspiring work environment. Always be sure to communicate your organizational objectives in a transparent and authentic way to all your employees. In the same vein, reward equally achievements and mistakes to foster a climate of trust between your co-workers. Finally, set aside a small budget to train your talents so that they maintain their professional knowledge and follow the latest trends in your industry. These valuable tips will definitely help you improve your organizational culture to foster innovation in the workplace!
Now that you know the importance of a good organizational culture, do you need external help to improve it? If this is your case, we invite you to schedule a free and personalized InputKit demo at your convenience. Our team of experts will be happy to help you stand out as an employer! 
On the other hand, here is a TED Talk by Arthur Carmazzin, one of the world's leading leaders in organizational culture. Here, Arthur offers valuable advice to completely change and improve a company's organizational culture in just 80 days. Without further ado, find out how such a culture would benefit your business. You will certainly find refreshing ideas to improve yourself as an employer!