In today's digitally connected world, we are relying more and more on online reviews and testimonials to shape our purchase decisions.
Of course, this is not something new. As consumers, we have always sought the feedback and opinions of others when deliberating products and services.
But the rise of review sites such as Google My Business and Yelp has reinforced this behaviour, and made online reputation management a key facet of doing business today.
This trend has crossed into the business world too. Witness the rise of business technology review sites such as Capterra, Trustradius and G2 Crowd.
In this article, we take a look at why customers reviews and testimonials are so important for B2B companies, and how marketers can start collecting them with greater ease.
B2B and B2C: What Are The Differences
In Business-to-Consumer (B2C), transactions are happening between a business and an individual consumer, whereas in Business-to-Business (B2B), the transactions between two businesses.
This means there are fundamental differences between the two.
In general, selling in B2B is characterized by the following:
Larger deal sizes, more complex deals
Smaller, focused target market
Longer sales cycle, decision-making process
Multiple customer stakeholders
Rational buying based on business value
Lengthy buyer-seller relationships
Due to the complex nature of B2B sales, most companies need to invest in a dedicated sales and marketing team to generate leads, educate potential buyers, prepare proposals, handle objections, negotiate contracts and build customer relationships to support future sales.
With that in mind, let's turn to take a look at the B2B customer journey.

The B2B Customer Journey
One of the key changes in B2B sales and marketing in recent years has been the dramatic shift in power from the seller to the buyer.
This has largely been a result of the Internet, with information about a product, service or solution — including comparative reviews — now readily and abundantly available online
In the past, sales reps would meet with business prospects, diagnose their needs, provide technical information and sell in their products and solutions. They were trusted sources of information.
Nowadays, customers are doing more and more of their own research online and formulating early ideas of what solutions they're looking for.
In fact, research by business consultancy CEB says that an average B2B buyer is 57 percent through the purchase decision before reaching out to a sales reps.
The implication is that B2B companies need to start engaging prospects earlier by producing content that correlates with the different stages of the buyer's journey. This could be social media, blog posts, webinars, case studies, technical papers and more.
This also begs the question: what is the role reviews and testimonials play in this journey?
Why Reviews & Testimonials Matter in B2B
Reducing Risk for Buyers
One of the key principles to understand in B2B marketing is the concept of risk reduction.
Most B2B transactions are high value purchases and could have a significant impact on the purchasing company's operation. For example, a company could be looking to purchase multi-million dollars worth of industrial automation systems.
There's many different types of risk associated with such a transaction.
Will the solution perform as per expected?
Does the deal provide value for money?
Will the system be installed on time and within budget?
Will we receive adequate after support?
Failure to get any aspect correct could cost a decision maker his or her job (yikes).
And when there are multiple decision makers on a specific deal, it's important to take into account the concerns each person may face.

Reviews and Testimonials for Conversions
When viewed from this perspective, one starts to appreciate why reviews, testimonials and even case studies, are so important in B2B settings.
Fundamentally, they provide reassurance to potential buyers that a company has a strong track record and is likely to deliver successful outcomes to them too.
Let's take a look at how each fits into the B2B buyer's journey.
In the early awareness stages when a prospect is still research for possible vendors, online reviews are often a first stop to get a sensing of which companies would be good to work with.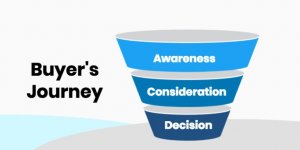 Having consistently strong online reviews can steer prospects into reaching out to discuss further.
As the deal progresses to the consideration phase, customer testimonials can be leveraged to highlight the seller company's track record and allay any anxieties amongst potential buyers.
In cases where more complex solutions are being decided upon, customer success stories and case studies can help to sell in a solution by offering a reference point of past success.
Customer Feedback & Reviews Software
So if customer reviews and testimonials are so important, why do some marketing and sales teams neglect to collect them from customers?
The simple truth is that sometimes collecting customer feedback is difficult and takes up a lot of time.
InputKit is a great tool for collecting customer feedback and online reviews!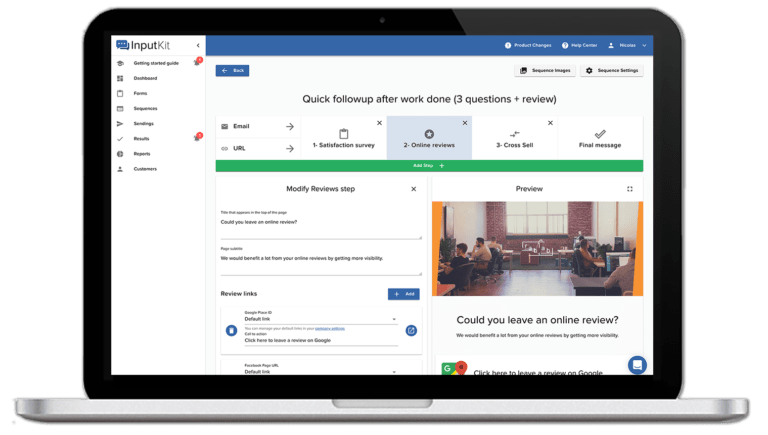 With InputKit, you just need to prepare your customer survey forms and click a few buttons to automate email sending to your customers. The surveys can be as simple or detailed as you want to better elicit the testimonials you need for your marketing.
Email reminders will be sent too so there's no fuss at all.
For customers who have given their feedback, you can segment and ask the satisfied ones to leave you a review on major review sites, or even upsell different services to them.
For lean B2B marketing and sales teams, InputKit can help them to increase the number of reviews and testimonials collected without creating more workload.
Conclusion
Online reviews and testimonials look set to increase in importance in the years to come.
For B2B companies, there's a need to make online review management a key facet of their sales and marketing plans. Organisations who proactively build up positive reviews will enjoy many benefits such as wider exposure, consumer trust and more public goodwill.
What are your thoughts about the importance of online reviews and testimonials for B2B companies? Reach out and share with us your thoughts today!