Every day, companies are looking for strategies to attract new customers. However, some forget that retaining current customers also provides many benefits, since these customers are already in contact with your organization! Having loyal customers allows you to attract other customers through positive word-of-mouth and it also increases the lifetime value of your customer base. Without further ado, we offer you 10 tips on how to retain your customers!
What is customer loyalty and how do you define a loyal customer?
Customer loyalty is defined as the relationship of trust that is built between an organization and a customer. Specifically, a customer can be said to be loyal when they make purchases repeatedly and favor you over a competing product/service. Loyalty occurs when several positive experiences add up, which creates a positive climate of trust between a brand and a consumer. Satisfied customers are happy to speak well of your brand, whether in their circles or on digital review platforms.
How to increase the loyalty of your customers?
Build customer loyalty by following these tips!
1. Build customer loyalty by creating a relationship of trust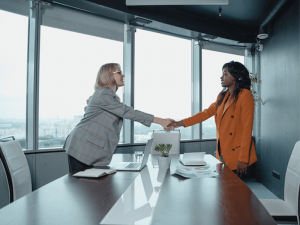 Wondering how to retain customers? Trust is the key to any strong relationship! It goes without saying for the relationships you build with your customers. How do you build a bond of trust with the customers who choose your business? Make sure you are honest and transparent, and make sure you keep the promises you make. For example, if a delivery time cannot be met, be sure to promptly notify your customers and offer compensation if necessary. The idea is to be proactive in announcing less pleasant news. Thus, your customers will know that you can keep your promises and above all, react appropriately if necessary. In addition, to build a relationship of trust, you must ensure that your product or your services fulfill their promises in terms of the need met. Overvalued profits, a lack of transparency on the real timeframes before obtaining results and several other elements can downright disappoint your customers and destroy all possibilities of loyalty. When thinking about how to retain customers, keep in mind that trust is essential and that a lack of transparency will quickly become known and will have an impact on your reputation!
2. Build customer loyalty by showing appreciation
Offering recognition to customers who choose you may seem trivial, but it is something that some companies sometimes overlook. Be sure to make your staff aware of the importance of thanking customers following a purchase, or even following a simple interaction in a branch. Additionally, if you collect customer information at checkout, it may also be a good idea to automate sending thank you notes via email or text message and inviting the customer to contact the business with any questions. Recognition can also translate into offering small surprise gifts, whether it is discounts, samples, or even a free product. Demonstrating recognition toward your customers will certainly be favorable for your customer loyalty! Keep that in mind when thinking about ideas on how to retain customers.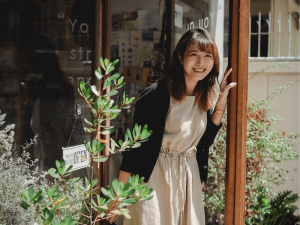 3. Build customer loyalty by making yourself available to answer questions
Customers attach great importance to response times when needed. To this end, according to Servicebell, responding quickly to someone who asks you a question would increase the likelihood of a sale by 50%. Impressive, isn't it? Quick support is therefore an asset, both in terms of customer loyalty and customer attraction. This is understandable since customers are hyper-connected and have increasingly high expectations of the companies they choose. In terms of availability, we also think of being present on several platforms to answer the various questions of your customers: chat on your site, telephone line, possibility of answering directly in store: be flexible! Flexibility is a central concept of how to retain your customers. 
4. Build customer loyalty by thanking them when you get positive feedback
When your customers take the time to share their great feedback, be sure to thank them! A customer amazed by the service received from your company leaves you a positive Google review? It is essential to answer them as soon as possible since it will even have an impact on the perception that potential customers will have of you. Every positive online review is important to your business, be sure to respond to every feedback in a personalized and positive way. Your customers will feel that they are important to you and that you have their satisfaction at heart.
How to Retain Your Customers? Build customer loyalty by following these best practices when responding to positive customer reviews:
Thank the customer by mentioning their name
Emphasize that you are happy to know that the item mentioned was appreciated
Confirm that the comment will be shared with your team
Personalize: Make sure you have a unique message for each answer, we don't want to look like a robot!
Make sure you don't make spelling mistakes!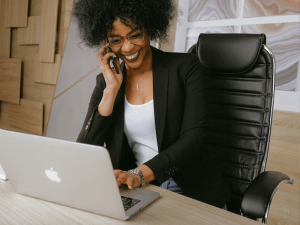 5. Retain your customers by acting quickly if you receive less positive feedback
How to retain your customers? Although negative customer feedback is undesirable, many organizations receive them on a yearly basis. Although a customer is disappointed, you can still transform this detractor into a promoter of your brand! Support is what will make all the difference. Build customer loyalty by showing empathy. When a customer tells you of their disappointment, whether in person or remotely, make sure to acknowledge and validate their emotions. Arguing with a customer will not be constructive and you will probably lose any possibility of retaining your customers! Wondering how to retain your customers? Start by appropriately managing disappointments! 
To ensure that you manage customer dissatisfaction comments that are publicly expressed, in Google reviews for example, here are some tips:
Stay polite and calm
React quickly
Apologize for this disappointment
Stay proactive and empathetic
Suggest continuing the discussion offline
Sign your first name for clarity
Include your contact details so they can reach you out
If the conversation continues offline, such as on the phone, make sure you have a clear game plan. What could you offer to this dissatisfied customer to create a WOW effect? First and foremost, be sure to plan your strategy well to turn this detractor into an ambassador: personalized meeting, free product, exclusive offer: several options are available to you. Moreover, for this purpose, why not have an annual budget dedicated to the rescue of detractors? By rescue, we mean that it is a budget that would allow you to go and offer a little something that would change their negative opinion into a positive experience. Turning disappointed customers into satisfied customers is possible, but it is a real challenge!
6. Build customer loyalty by creating an exceptional customer experience
To retain your customers, you have to make them want to stay with your organization! Creating a successful customer experience means creating a customer journey in which each point of interaction creates a positive effect. To get there, make sure you conceptualize each stage of your customer journey and define what you offer at each stage. Every irritant found in your customer experience should be minimized and even avoided. Also, before creating a wow customer experience, make sure to prioritize your customers' basic expectations. Many companies aim to stand out but do not bother to assess whether their processes in place are effective. For example, make sure you first minimize the wait times when you need support before you think about giving an extraordinary gift. It is important to work by priority!
To have a certain rigor in terms of customer experience, make sure to set up an internal customer experience committee that will prioritize and conceptualize the organizational changes to be made. It is by thinking and listening to the voice of your customers that you can create a successful and memorable customer experience at the same time. This is a key concept if you wonder how to retain your customers!
7.  Build customer loyalty by having a feedback collection strategy in place
To maximize the impact of your brand ambassadors, implement a customer feedback collection strategy. This way, you can target your satisfied customers and correct your detractor customers if necessary. It is by becoming aware of the degree of satisfaction of your customers that you will be able to react accordingly. A customer experience solution like InputKit allows you to automate the collection of customer feedback and be notified in real-time when a new review is detected. Having the right tools and collecting feedback every day will help you if you are wondering how to retain your customers!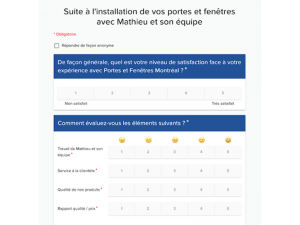 8. Build customer loyalty by creating a referral program
When thinking about how to retain your customers, keep in mind that your ambassadors will appreciate being rewarded by your brand. In this perspective, why not create a loyalty program that aims to reward your customers when they refer other customers to you? They will be able to receive monetary compensation when they speak favorably of your brand by convincing those around them to do business with you. For example, at InputKit, under certain conditions, we financially compensate people who have referred people who become customers. By giving a reward to your valuable ambassadors, they will want to reward you again by referring you again and again! Having a good referral program in place can be a huge benefit to your organization! Thus, you will benefit concretely from the voice of your ambassadors, which will have a direct impact on your business income.
9.  Build customer loyalty through a positive employee experience
How to retain your customers? Nowadays, a good customer experience starts first and foremost with a good employee experience. Retain your employees to retain your customers. Happy and satisfied employees will want to give their best and delight your customers. We cannot expect tired, unmotivated, and irritated employees to want to create a wow effect with your customers. To motivate your employees, be sure to give them positive feedback. Also, when giving feedback to your employees, be sure to be specific. With this in mind, why not send the comments of your satisfied customers directly to your teams? Your employees will feel blessed to know that they have made a great difference in the lives of their customers. The InputKit employee experience solution allows you to automatically share the opinion of your satisfied customers with the employees concerned. In addition, soon available via InputKit, the sending of internal questionnaires will allow you to target the level of happiness of your teams to act before losing your talents. All in all, by investing in your employees, you will see impact on the quality of the customer experience offered.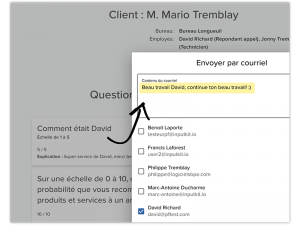 10. Build customer loyalty by highlighting their loyalty (birthday, years of relationship, etc.)
Has a client been doing business with you for more than a year? Is it the birthday of one of your loyal customers? It is important to highlight and celebrate the small events of life! You will bring joy to the lives of your customers, which will be favorable if you want to retain your customers! To this end, be aware that it is possible to automate the sending of certain messages and emails according to triggers that come from CRM or ERP. In this sense, why not benefit from automation, while personalizing your practices, to thank and highlight special events in the lives of your customers? This is an idea to try right now if you wonder how to retain your customers! 
How to retain your customers? How InputKit can help you build customer loyalty!
As mentioned previously, InputKit is an effective solution to maximize your loyalty and your customer satisfaction. Thanks to our automated questionnaires, target the level of satisfaction of your customers. React accordingly according to the level of satisfaction of your customers. Your ambassadors will be automatically directed to your online review platforms, while your detractors will be quickly taken care of with real-time notifications. With InputKit, taking charge of your customer satisfaction has never been so simple and effective! Our clear and effective dashboard will allow you to quickly target your customer experience KPIs. In addition, our solution contributes to the satisfaction and well-being of your employees thanks to the automatic sharing of good comments from customers. This is an asset that should not be overlooked in this labor shortage.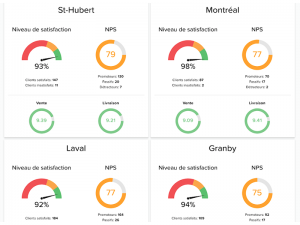 Finally, we hope that these 10 tips will be beneficial to you. Build customer loyalty by showing them that their well-being is your priority. Create a relationship of trust, demonstrate recognition and make yourself available to answer questions. In some cases, you may receive less positive feedback. In this case, be sure to remain cordial and polite and to rectify the situation quickly through teamwork. With a feedback collection solution like InputKit, be sure to implement processes that will optimize your practices in place. Plus, why not set up a referral program that will allow you to attract even more new customers? Build customer loyalty by showing them that they are at the heart of your business priorities. To achieve this, optimize your processes with the automation offered by the InputKit customer experience solution. Your free, no-obligation demo is waiting for you!