Whether you are an online company or not, the management of the online customer experience related to your brand plays an important role in the satisfaction of your customers. Indeed, with the growth in the use of virtual platforms, it is crucial to properly manage your online presence to better satisfy your customers. A relationship with your customers can be complex to build and, above all, to maintain on the web. Indeed, it is not always easy to manage the online customer experience when you have no experience in digital marketing and in its various specializations, such as local SEO.
What is the online customer experience? How can you maximize customer satisfaction on your virtual platforms? Here are nine tips to help you with managing the online customer experience.
What is the online customer experience?
Definition of online customer experience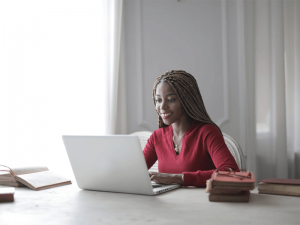 The online customer experience is defined by all the perceptions and emotions experienced by your customers during your virtual interactions. These contacts include your website, social networks, online ads, chatbots, online support and mobile apps.
Managing the online customer experience can be influenced by many factors, such as the quality of the online service, the customer support, the loading speed of your website, or even the readability of the chosen font on your website. In this sense, it is very important to ensure that your website and digital platforms are optimized. Review portals, social media and more: maintaining a good relationship with your customers by consistently responding to their online messages and reviews is crucial. A company that communicates honestly and transparently with its customers will show that it values its valued customers. This is a must-have for successfully managing the online customer experience!
How to excel at managing the online customer experience?
9 tips for managing the online customer experience
Once you understand the definition of the online customer experience, it is now time to put in place concrete strategies to optimize it. However, this approach can be complex for SMEs who know little about the web or who are considering creating their first site.
How can you improve customer satisfaction on your virtual platforms? To guide you, here are nine easy steps to manage the online customer experience.
1. Include personalization in the digital experience
Customers are increasingly critical of the online customer experiences available to them. Therefore, when managing the online customer experience, how can you offer a unique experience to your customers that will push them back to your business?
The answer is simple: by offering them a personalized digital experience!
According to Slideshare, 80% of customers prefer to do business with a company that provides a personalized shopping experience. Another study by Newtech shows that 33% of customers will give up buying from e-commerce if it does not offer enough customization options. These statistics prove that personalizing the online customer experience is one of the main customer relationship issues in 2022!
When managing the online customer experience, how can you personalize your services? There are many ways to do this. For example, when sending an email, customize your subject line with your customer's first and last name to add a more human touch to your exchange. It is even recommended to include details about the customer's specific journey, for example by asking for news of a previous purchase to ensure satisfaction.

If you are a regular customer, as a thank you, offer discounts on a future purchase or additional products related to the latest online transactions. When purchasing on your website, you can even present complementary and relevant products to those in their shopping cart.
A personalized online customer experience with relevant content based on your customers' history, needs and interests is a great way to differentiate yourself from a generic experience.
2.  Offer a quick delivery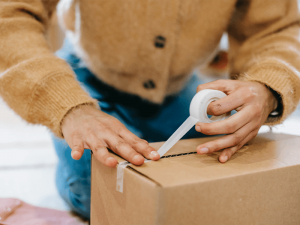 Consumer expectations for delivery times are increasing. After all, giants like Amazon deliver very quickly. An evening order can be received in less than 24 hours!
For this purpose, according to a PwC article, 72% of consumers subscribe to Amazon Prime for fast and free shipping. Yet, according to a study by eFulfillment Service, only 50% of retailers offer same-day delivery and 70% of them cannot afford free shipping.
How can you ensure you avoid customer dissatisfaction with delivery? To help you, here are four best practices for managing the online customer experience when ordering online:
Be transparent about the delivery date: While customers want fast and free shipping, not all businesses can afford it. As such, it is important to ensure that you can meet your client commitments. Be honest about the delivery date, especially during festive periods when packages are especially expected. Avoid promising deadlines that you cannot meet: this will save you many customer dissatisfactions.
Pay special attention to the price of your delivery: As previously stated, customers appreciate free shipping. Therefore, if you can't afford it, be sure to set a competitive price. Why not set a certain purchase price where you offer free standard shipping? After a certain amount, you can even offer the possibility of getting a completely free express delivery. This will improve your customer satisfaction, which will be much more likely to order from your online store.
Keep your customers informed about the status of their delivery: When a customer makes an online purchase, they want to make sure they know the delivery date of the product. For predictability, send a confirmation email with an approximate delivery date and tracking number after purchase. This will reassure them and encourage them to order from you again!
Set clear shipping policies: When a customer orders online, they may validate your delivery policies in the event of a package failure or damage. A lack of warranty in case of lost product could discourage your prospects from doing business with you.In this regard, be sure to establish clear policies that ensure your clients are satisfied. For example, when a package is misplaced, offer a free replacement or a full refund of the product. If you are imposing additional delays on the customer, consider offering a refund of the shipping charge to compensate. This will show your customers that you are trustworthy!
3. Facilitate contact when needed
When it comes to managing the online customer experience, each point of contact translates into an opportunity to provide human and professional support to your customers. According to a Shopify study, 50% of customers have already abandoned an online purchase due to poor support. In this sense, it is important to establish clear points of contact to help customers get immediate support when needed.
For example, use your website footer to enter your email address and phone number to make it easier for your customers to reach you. Set up an online chat hosted by a member of your staff to answer your customers' questions immediately. And why not include calls to action on your site to invite your customers to join you? These measures will greatly facilitate access to your support: it's a proof of the good management of your online customer experience!
4.  Choose clear and intuitive navigation on your website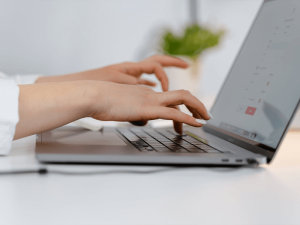 The navigation and ergonomics of your website are two key factors in managing the online customer experience. A web page that doesn't load, a confusing interface, broken links: many are the irritants that discourage your consumers from continuing their purchases.
Have trouble browsing your website? Here is a short guide in six easy steps to ensure the optimization of your website:
Establish a clear structure: Your users should have a good overview of the site and easily find the information they need. Make sure you have a clear hierarchy with as few levels as possible to avoid confusion for your customers.
Build intuitive navigation: Your customers need to reach their goal with just a few clicks. Monitor the simplicity and clarity of your interface for an optimal navigation for your users.
Write relevant content: Your content must be linked to your business. Give them information about your organization (products, services, origins, different points of sale) to better inform them about you.
Highlight interactive elements: When offering calls to action or interactive elements, be sure to make them visible on your website. For example, choose bright buttons to create contrast with the rest of your interface. You can even create animations when relevant.
Optimize page loading time: Make sure your pages don't take more than eight seconds to load. Beyond this time, your customers are at high risk of losing interest in your website and visiting the site of one of your competitors. For an optimal result, compress your images and ensure the proper structure of your website. This will reduce the delay. Keep this in mind when managing your online customer experience!
Repair broken links: Perform regular maintenance of your website to repair broken links and update your content. This will allow your users to get an optimal and completely up-to-date online customer experience.
5. Create an optimal mobile experience
Consumers are increasingly using mobile devices to search for products and services on the go. According to Think with Google, 77% of online shoppers now come from visits to mobile devices.
To help you, here are five best practices to follow to adapt your website to mobile devices and to help you with managing your online customer experience:
Optimize your navigation: Keep only the essential options and avoid overloading the interface with sub-menus.
Monitor the size of your images: Page loading is crucial for a mobile device. Compress your images to optimize your loading speed.
Adapt your interface to touch screens: Choose a clean interface without a sidebar to increase your loading speed. In addition, take care to distance the options of your main menu to avoid misclicks that could be frustrating for your visitors.
Create multiple versions for mobile devices: There's a wide range of tablets and cellular devices. Study the different models to ensure that your site has good visibility on the various possible screen sizes.
Test your mobile interface: Once your platform is ready, try your website on your own mobile device and use Google's mobile optimization test. This way, you can guarantee the best possible online customer experience for your users. Remember this when managing the online customer experience.
6. Incorporate good product visuals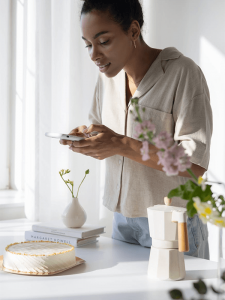 Visual representation of your products is one of the most important aspects of your website. You must provide your customers with high-quality visuals that will help them make an informed choice when shopping online or pre-screening before going to a physical store.
Why is the quality of the visuals so important when managing the online customer experience? When online, your customers can neither touch nor actually see your merchandise. As a result, a variety of photos of your products with relevant descriptions greatly help consumers feel as if they were there. This contributes to their online customer experience!
Don't know how to look after the visuals of your products? Here are seven tips to help you improve the visuals on your website when managing the online customer experience:
Present your product from multiple angles: Since your customers can't take the product by themselves, it's important to be able to provide them with multiple photos of the product. As a result, in your photo carousel, present your product from several angles, as well as at various distances. You could even use an interactive video template, like the 360 videos, to give your customers an online experience closer to the in-store experience!
Include the various models of your products: Do you sell a sweater that has several color options, or a piece of furniture that comes with three different types of wood? Why not clearly show the difference between these models by showing the varieties available on your visuals? This will allow your customers to identify the model they prefer, which will greatly contribute to their customer satisfaction.
Use good light: Brightness plays a crucial role when taking photos. Lighting too gray can make your products look dull. On the contrary,  dazzling light can prevent your customers from seeing your products clearly. Take care to hire a professional photographer to take care of the appearance of your visuals and organize your photography sessions in broad daylight. Natural light is your best chance to take photos with balanced lighting that will showcase your products.
Choose a clean background: When photographing your products, be careful not to choose an overloaded background. Not only will a detailed background hurt the customer's attention, but it can also hurt you when you are searched on Pinterest or Google. Use a simple, single-colored background to draw the customer's eye to the product rather than the surrounding environment.
Keep your photos authentic: An exposed product in an unnatural situation can cast doubt on your customers' minds. To avoid misunderstandings, present your products in an authentic way. For example, hire a mannequin to take a photo of your clothes. If you sell furniture, create your visuals in a well-lit living room. This will give customers a better idea of how the products are being used and will create trust in your business.
Encourage your customers to take pictures of the product: Of course, one of the basics when managing the online customer experience is the authenticity of your relationship with your customers. To show that the presentation of your products in your visuals is honest, what better way than to invite your customers to share their own photos after their purchase? This way, your prospects will be able to rely directly on the photos and reviews of satisfied customers in order to make their purchases. This is a great strategy to prove your reliability to your prospects. Amazon knows how to take advantage of this tactic by including customer photos in the product reviews section.
Upload instructional videos: If you sell a tool or appliance, an instructional video is an asset to your online customer experience. It will allow your customers to better understand the use of the product and thus select the one that best fits their needs of the moment. This is a simple and effective way to manage your online customer experience.
7. Put forward your positive online reviews
It is important to maintain a positive e-reputation to put your customers in confidence. According to The Power of Reviews, 95% of consumers read reviews online before doing business with a company.
A customer review improvement solution like InputKit can help you gather positive reviews from your satisfied customers in order to show your prospects that you are trustworthy. In addition, our solution allows you to centralize your positive feedback in a widget on the homepage of your website so that your users can quickly spot your positive reviews. This is a great way to show your prospects that you care about the well-being of your customers!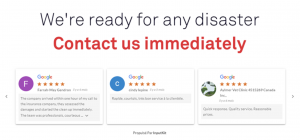 8. Optimize local SEO
While this may seem trivial, local SEO optimization is also important when managing the online customer experience. According to a SocialMediaToday study, 88% of consumers who search for a local business on a mobile device call or visit that business within the following 24 hours. So make sure you position yourself well on keywords that can be searched for by your customers in case of need. For example, are you a garage located in Brossard? Be sure to optimize your website and Google Company page on the keyword Garage automobile Brossard so that people in need can quickly find you. By positioning yourself on this specific request, the garage in question helps to help its potential customer in their search.
By optimizing your site for local searches, you have the opportunity to offer these prospects a quality experience in a nearby branch. This is a great opportunity to build trust with your customers and get to know them better. After all, if your customers are satisfied, they are likely to come back. Your clientele will feel pampered and will not fail to recommend your business to its relatives.
Do you need advice to optimize your local SEO? If so, feel free to read our article  "Local SEO Tips: How to Improve Your Local Positioning".
9. Send surveys to your clients to better understand their needs
In order to better understand your clients, it is important to establish a relationship of trust with them. In order to achieve this, you need to engage proactively with your customers to adjust to their needs. To that end, what could be better than a customer satisfaction survey?
A customer experience assessment and improvement solution like InputKit can help you better understand your customers' expectations for your services. By sending an automated customer satisfaction survey at the right time, one to two hours after purchase, you will be able to find out how satisfied your customers are. This valuable feedback will help you better understand your customers' needs and thus better meet their expectations related to the online customer experience. In addition, you can even invite your satisfied customers to leave you a positive review online to increase your visibility on your review platforms.This will help you when managing the online customer experience!
Did you know that some customers are more likely to participate in a customer satisfaction survey if they can answer it anonymously? This is why the option to answer your survey anonymously could help increase your response rates. In addition, this feedback may prove to be more honest and impartial, as anonymity will prevent your clients from experiencing certain discomforts that may be caused by their negative comments.
This authentic feedback is a must when it comes to managing the online customer experience. Therefore, consider incorporating the option to respond anonymously in your customer satisfaction surveys! For this purpose, InputKit offers you the option to check the anonymous option on all your surveys sent.
All in all, remember that your services and products are set up to satisfy your customers. In this sense, it is important to gather their feedback to adapt to their needs, or even to know the trends of the moment. By showing them that their opinions are at the center of your priorities, you will bring a more human side to their online experience: they will feel pampered to see how much they matter to you. In addition, sending these surveys will allow you to better personalize your services. Customer satisfaction surveys are important when you're managing the online customer experience!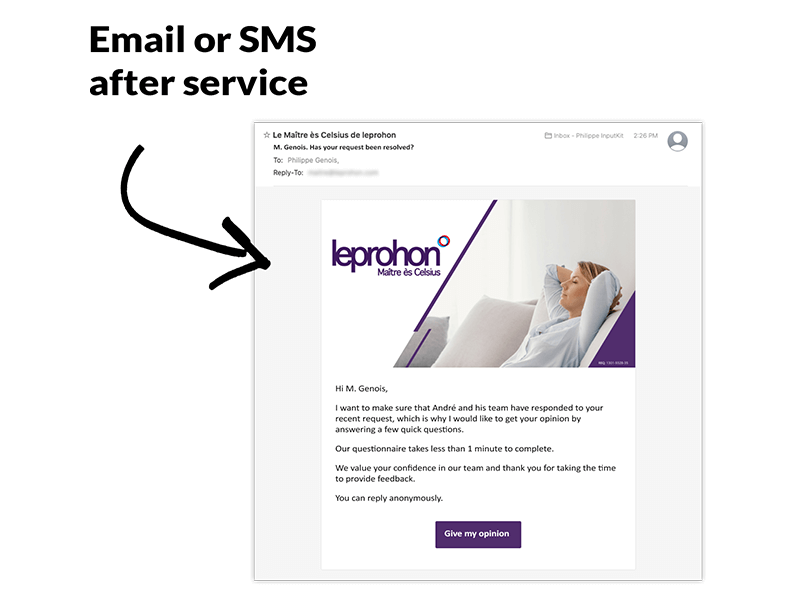 Managing the online customer experience can be an important challenge if you're unfamiliar with digital best practices. Follow our tips to give your customers the experience they deserve!
Personalize your service according to the customer's needs, offer fast shipping and clearly include your various points of contact on your website. Create clear navigation, and adapt it to mobile devices to enhance your online customer experience. Take care of the visuals of your products and enhance them with positive reviews to show your customers that you are trustworthy. Finally, optimize your local SEO to build your local community's knowledge of you and make sure to send regular customer satisfaction surveys to better adapt to your customers' needs.
Do you still need help with the management of your online customer experience? If so, we invite you to plan a free demo of our solution with our customer experience experts!