In order for your employees to reach their full potential, it is important to ensure the cohesion and well-being of your teams. The more fun your employees have working together, the more motivated they will be to give their best to achieve their assigned goals!
For this purpose, team-building activities are increasingly popular in companies. And for good reason! Your employees need a break to recharge, talk about more than work, and laugh with their colleagues! By organizing activities in the office, you will create a healthy corporate culture of wellness, engagement and teamwork.
Your employees will appreciate these moments dedicated to getting to know their colleagues better. A moment of relaxation is crucial to generate a sense of belonging to the values and objectives of your company. To help you stand out as an employer, here are 7 ideas for workplace activities and their relevance!
Why is it important to organize
workplace activities
?
Having good ideas for workplace activities is an essential asset for a dynamic employee experience. These small breaks will allow your teams to connect socially with their colleagues and get to know them better as humans. In turn, these activities will enhance teamwork, trust, communication and collaboration among your co-workers. In addition, team-building activities can improve employee motivation and job satisfaction, which in turn can increase productivity and improve organizational performance. 
It is also important to consider that the benefits vary depending on the type of activity, the team involved and the company's objectives. As such, be sure to choose activities that are in the best interests of your colleagues. This little detail will definitely add value to your ideas of social workplace activities!

6 ideas for
workplace activities
1. Organize breakfasts between colleagues
Breakfasts with colleagues present a golden opportunity to build relationships at work. This time of relaxation allows your employees to discuss recent events of their professional or personal life around a good meal, with confidence. In this way, your various departments will be able to exchange views, ideas and comments on the company's objectives and challenges. By showing such openness, your teams will develop better cohesion, but will also benefit from more creativity in the next steps of your projects. This social activity at work is definitely an investment to stand out as an employer! These breakfasts are a great idea for social activity at work to start the day on a positive note. Did you know that a nutritious meal has a significant impact on concentration and productivity at work? Indeed, it has been proven that a healthy diet at the beginning of your day can influence the rest of your day, both for your concentration and your morale at work. Definitely, if you're looking for good ideas for workplace activities, keep in mind that these lunches will make happy employees at work!
2. Plan team-building activities 
In terms of ideas for workplace activities, team-building activities have been gaining popularity in recent years. These group activities present an excellent opportunity to strengthen the team spirit of your employees in order to improve their communication and their commitment to work.
According to a study conducted by SHRM, companies investing in team-building activities have employees up to 45% more engaged. In return, such a performance would generate more revenue, and significantly reduce employee turnover. Interesting, isn't it?
Do you want to improve employee retention? If so, here are 12 ideas for workplace activities that will strengthen communication and cohesion among your employees: 
Sports competitions;

Board games;

Rallies;

Murder and mystery evenings;

Escape Room;

Outdoor hikes;

Trivia surveys;

Lunches & Learn;

Treasures hunts;

Q&A sessions to break the ice;

Group courses related to a specific leisure;

And many more!
Remember: the goal here is to encourage communication, the expression of ingenious ideas and team spirit. To that end, ensure that your activities can showcase the best qualities of your colleagues so that they can get to know each other better and collaborate. That's why this idea of workplace activity is a great asset to maximize the mutual support and self-esteem of your employees!

3. Create leisure clubs 
Creating leisure clubs is a great idea for a social activity that reduces stress at work. According to a study conducted by Zawadzki, employees who participated in at least one group recreation during the day were 34% less stressed and 18% less depressed at work. This proves that leisure isn't just about individual passions: it's about interests that, when shared, contribute to developing a sense of belonging and camaraderie. 
In addition, if your colleagues share common interests, they may even make friends at work. Thus, leisure clubs have a positive impact on your organizational culture, as your employees will feel accepted and valued by their co-workers. By creating meaningful connections in the office, they will be able to take a few moments to discuss a pleasant topic to establish a human contact, especially when working remotely. In turn, these small breaks will have a positive impact on their morale and make them want to work to the best of their abilities. Definitely, if you want to include new ideas for workplace activities, leisure clubs will bring new friendships!
4. Celebrate important employee life events 
When thinking about good ideas for workplace activities, keep in mind that it is important to recognize important events in the lives of your employees. Acquisition of a new customer, birthday party, birth, marriage, exceptional performance: in everyday life and in the office, every opportunity is good to celebrate your employees' victories!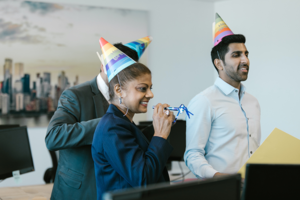 In order to show your appreciation to your employees, take care to highlight these daily events. For example, thank them for their good work during the bi-monthly meetings with managers. For great team successes, plan group activities or 5-7 evenings to celebrate the occasion. Finally, at special events related to their personal lives, why not give them a small gift to mark the occasion? Gift baskets in the brand of your company, discounts at their favorite shop, paid holidays: these little things will make them feel that the company is not just a job – it's also a place where they are considered, appreciated and listened to. Celebrating your employees' daily victories is a must when you think about ideas for workplace activities!
5. Volunteer as a group
If you're thinking about ideas for workplace activities, volunteer work has many benefits for your brand image and the well-being of your employees. By supporting local causes, you will be doing something beneficial, both for your workplace and for your community. In addition, these social activities can be very constructive for your co-workers. Taking them out of their usual routine and doing something concrete to help a cause will strengthen their self-esteem and job satisfaction. This will benefit their work performance while allowing them to acquire new skills through altruistic action!
In order to properly plan this workplace activity idea, be sure to invite your employees to support a cause that is important to them. For example, with a solution like InputKit, ask your employees what causes they are interested in and then give them a day off to volunteer as a group. This opportunity to rally around a common cause will allow them to forge meaningful bonds that will last through time. This is a good idea for a workplace activity to keep in mind to ensure the well-being and self-esteem of your employees!
6. Attend development seminars 
To position yourself as an employer of choice, it's important to keep up with trends of the employee experience in 2023. What better way to achieve this than to offer free development seminars to your employees? Through these sessions, your employees will be able to deepen their knowledge, which will greatly contribute to their professional growth. Definitely, an organizational culture focused on development and career opportunities will attract many talents to your business!
Here's how this social activity at work idea will benefit your employees and your business: 
Deepening related skills and knowledge:

Development seminars provide employees with the opportunity to develop new skills and expand their knowledge in areas that are relevant to their role and corporate objectives. This can help improve employee performance and productivity and ultimately benefit the entire organization.

Keeping employees up to date on industry trends

: Development seminars help employees keep abreast of the latest trends and developments in their field. This is beneficial to the organization as it allows them to remain competitive in the marketplace.

Improving employee engagement and motivation:

Inviting employees to development seminars shows that the organization values their development and is invested in their professional growth. This improves employee engagement and motivation.

Creating a learning culture:

Encouraging employees to attend developmental seminars helps create a learning culture within the organization, leading to a more innovative and adaptive workplace.

Providing networking opportunities:

Development seminars allow employees to network with other professionals in their field, which benefits the entire organization. This helps build relationships and foster collaboration within the team.
7. Organize outings with colleagues at a cottage 
Cottage trips are great ideas for workplace activities.  They allow you to get some fresh air to create connections outside the office. In addition, spending time in a relaxed setting helps colleagues get to know each other better, both personally and professionally. On the other hand, this break from the work routine will give your colleagues the opportunity to take a breather. This will certainly have a positive impact on their morale and motivation at work! 
Also, why not take the opportunity to organize some sports activities? Outdoor sports, friendly competitions, team games: these ideas for workplace activities will certainly help improve communication, trust and collaboration within your teams. All in all, going out to the cottage has many key impacts on the team spirit and morale of your colleagues, making it an ideal activity to improve your employee experience! 
Find more ideas for
workplace activities
with InputKit's surveys 
Do you need help knowing your employees' preferences for workplace event ideas? If so, InputKit's employee experience solution is for you! 
With our solution, you can engage your employees to better target the types of activities that interest them. For example, write a one-time survey to find out what ideas for workplace activities are of interest to your colleagues and their availability dates. Then, rely on the ideas gathered to plan a large group outing. This will allow you to organize the best possible outing according to the preferences and interests of your employees. Don't forget: by allowing your employees to express themselves, they will feel considered and listened to by your company. This is an asset to improve your employees' engagement and make them want to participate in the chosen activities!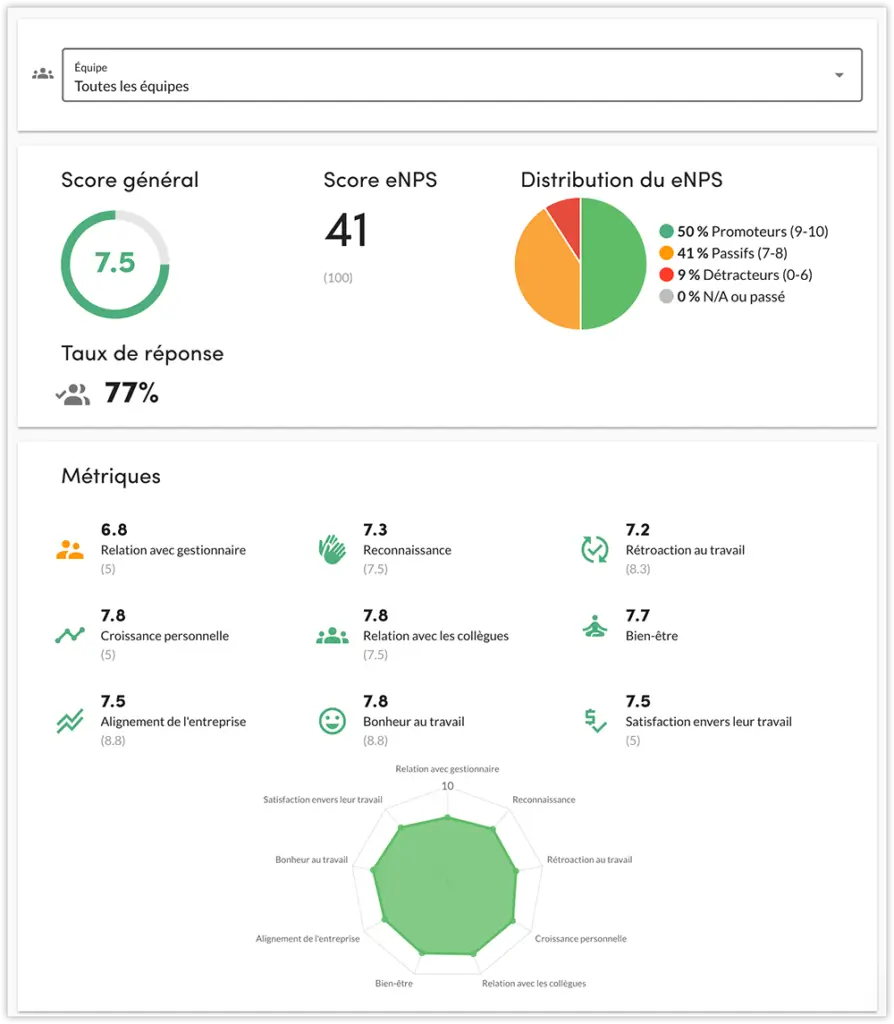 Following an activity, our surveys may also allow you to track your employees' feelings. Through our many question templates, you can learn everything about the commitment, satisfaction, well-being and morale of your colleagues at work following an activity. In this way, you will be able to find the best ideas for workplace activities to target the most popular and effective ones. This way, you can continually plan the best activities to grow your employees socially and professionally. This will definitely have a positive impact on their communication, teamwork and work performance! 
What are some good ideas for workplace activities to improve your employee experience? Take inspiration from our 7 ideas to stand out as an employer!
To start the day off right, plan a breakfast between colleagues. If you want to foster strong links between colleagues, we invite you to create leisure clubs or to plan team-building activities. Finally, for moments of relaxation, why not give your employees time off to volunteer or go out with colleagues at a cottage? This will allow your employees to engage outside of work around common interests to develop meaningful connections that will maximize their commitment to work!
As an employer, it is important to properly equip your employees to ensure their well-being at work. To that end, be sure to celebrate the victories of their professional and personal lives so that they feel valued and appreciated by your company. Finally, reserve a budget to offer your employees free development seminars so they can deepen their professional knowledge. This will benefit both your employees and your business!
Now that you have good ideas for workplace activities, do you need our expertise to optimize your employee experience? If this is your case, we invite you to schedule a free and personalized demo of InputKit at the time of your choice. We look forward to helping you stand out as an employer!
Still on the topic of collaboration, we invite you to watch this video by Tom Wujec on the importance of teamwork to ensure the success of a company. Through a team challenge, he explains how communication and cooperation are crucial assets for your organization. We hope this video will help you better understand the importance of workplace activities!