Today, customers expect businesses to know who they are and what they are looking for without having to explain their expectations. To this end, defining the customer journey to meet their needs is no longer an asset, but a necessity. How can you meet the unique and complex needs of your clients? 
Mapping the customer journey is then necessary to better understand how the customer feels at each stage of the process. Indeed, this analysis of the customer journey and the customer experience makes it possible to implement a smooth and optimized journey. This exercise will directly influence the purchasing decision of potential customers and their satisfaction throughout the purchase journey.
In this article, we will define in detail the concept of the customer journey and its different stages. 
What is
the customer journey
?
The customer journey is defined as all the real or probable stages through which the customer comes across throughout their relationship with a business. It is also defined by the customer's overall feelings before, during and after the purchase. Thus, in the definition of the customer journey, we find:
The period of reflection and research preceding the purchase;

The discovery of products and services;

Customer behavior during the different phases of the purchasing process;

The fluidity/simplicity of the purchase; 

Use and evaluation of the customer after purchase;

The customer's recommendation phase regarding the services and/or products used;

All the customer's feelings during the previous steps.
All of these behaviors can be grouped into three macro-steps: the pre-purchase phase (or the research and discovery phase), the phase during the purchase (contact with the company and purchase of the product), and the post-purchase phase (use and evaluation of the product). 
Throughout these steps, the potential client will have different channels of interaction (search engines, social media, review platforms, blog, etc.) to learn about the problem and its possible solutions. In this sense, your company's goal is to optimize its contact points with the customer to educate them, ensure their satisfaction and retain them. 

The different stages of
the customer journey
1. Problem recognition and information research (Awareness Stage)
During this stage of the customer journey, the potential customer will be faced with a problem or an unfilled need. They will then turn to external sources of information to better understand what they are experiencing and give a name to the problem they are experiencing.
For example, a prospective customer will notice that their home isn't clean, even though they regularly sweep it. This created a sense of embarrassment and frustration, since the place is never really at its convenience with their current vacuum. They will then search on the web: "Cleaning problem with the Sweeper Pro 2000" to understand why this problem occurs. 
At this stage, it is still too early to act with the potential client, who first tries to understand and contextualize the problem experienced. However, you can still optimize your search engine positioning to ensure your credibility as a company. Be sure to position yourself on Google Maps, use local keywords and regularly update your information on your online platforms. This will allow you to establish a first contact point with your prospects!
2. Assessing available options (Consideration stage) 
Once the potential client has clearly established the problem they are experiencing, they must now look for possible solutions. At this stage of the customer journey, they learn about the various options available to them to meet the need established according to specific decision criteria.
For example, once a prospect has identified that the problem is their broken vacuum cleaner, they will think: "What are the options available to me to clean up properly?". Then, they has the following options to solve their problem:
Option A)

Hire a home cleaning company to reduce household workload. 

Option B)

Opt for a broom, as I don't have good experiences with electronic devices. 

Option C)

Opt for a conventional wire sweeper.

Option D

) Opt for a wireless sweeper.

Option E)

Opt for a robot sweeper.
As a company, your goal will then be to educate the potential customer about all the options available to them. Your goal is to remain neutral as the prospect is in the discovery phase. To prove yourself, show that you just want to educate about the different options listed above. By remaining neutral and informative, you will position yourself as a trusted company not wanting to sell at any price. With this information, they will perceive you as a potential solution and will consider you more during the purchase phase.
Here are some examples of free and informative content:
Comparative grids to show how your offer differs from that of competitors;

An educational blog related to the various options available for your potential customer;

A page of products and services with many detailed descriptions.
With this information, you can build trust with your potential customers. They will know how you can meet their needs, which will encourage them to do business with your company. This is a good example of an optimized customer journey! 
3. Purchase decision (Buying stage)
Once this stage has been reached, the prospect has decided on a strategy to address the issue. After several searches, they know that they will go to a robot sweeper that allows them to clean the surfaces well while limiting their workload. At this stage, the lead will compare the different robot sweepers according to several criteria before making a final purchase decision. 
The quality/price ratio;

The capacity of the waste bag of the different models;

The approximate lifespan;

The number of stars given by customers;

The reputation of the company that makes the models.
For example, in this phase of the customer journey, the prospect will ask themselves: "What is the best robot sweeper for me based on my previous research?". The potential customer will then compare the best possible options before making a final decision. They will be drawn to the company that meets most of the previously named criteria. They will trust them as long as the sweeper meets her needs.
Your role will be to provide relevant and compelling content to show potential customers that you are THE solution to their needs. Highlight the tangible benefits of your services and products to show potential customers how you can help them. Positive case studies, customer testimonials, online reviews: there are many ways to position yourself as the best choice. If applicable, you could even offer to calculate the return on investment (ROI) generated by your service!
With a solution like InputKit, you can position yourself as a company of choice with an excellent reputation. Our solution will allow you to target your ambassadors to automatically invite them to leave you a positive online review. This feature, paired with our Online Review Widget, will allow you to showcase your best testimonials on your website. In this way, you can show your potential customers that you are the best solution to their problem while distinguishing yourself from the competition. Definitely, this is an example to follow to optimize the customer journey!

4. Post-purchase evaluation and loyalty stage
Once the purchase phase is complete, the customer will move on to resolve the issue or need they have. With the product or service they have acquired, they will try to fill the need or solve the problem. After using the product or service, they will then assess whether the experience met their expectations. Here are some examples of evaluation criterias following an in-store purchase:
Need:

Does the product meet the customer's initial need?

Innovation:

Both in terms of available options and design, is the product unique?

Effectiveness:

Does the product work better than other similar proposals?

Durability:

Is the product in good condition over a long period of time?

Maintenance:

Does the product require more maintenance than competing offers?

Learning:

Is the product easy to use?

Appeal:

Is the product appealing? Does it fit your brand image?
As an example, at this point in the customer journey, a customer who has purchased a sweeper will ask themselves: "Did my purchase make it easier to maintain my home?". If the client feels that the product meets their initial need and evaluation criterias, they will be satisfied with their experience. However, if the product doesn't match the promise to purchase, the customer will most likely be unhappy and may leave you a negative review online. 
As a company, your role is to talk to customers to show them that you are attentive to their needs. On your different channels and touchpoints, be sure to respond to customers to show them that their well-being is a priority. This way, you will be able to note the flaws in the customer journey while ensuring complete customer satisfaction. This is a crucial step to improve your internal processes and optimize your company's reputation!
Following a purchase, also make sure to provide the necessary support to your customers. Live chat, phone, email, in-store support, online review platforms: always have an employee available to guide your customers. This will ensure they understand the use of your products after their purchase, which will increase their lifespan and facilitate their use. By being there for your customers, you will build authentic and lasting relationships that will last through time!

How InputKit can help you optimize
the customer journey
and customer experience
In order to create an optimal customer journey, it is essential to clearly identify the needs and expectations of your customers. InputKit offers many tools to facilitate the analysis of your customer satisfaction and put your prospects in confidence.
Thanks to our personalized and automated customer satisfaction surveys, you will be able to find out your customers' honest opinion about your products and services. These surveys sent at the optimal time, 1 to 2 hours after a lived experience, will allow you to get valuable hot reactions, for clear and relevant information. With our response rate of 57% by SMS and 49% by email, you can implement a concrete improvement strategy based on real needs. This is an essential asset to target the strengths and weaknesses of your customer journey and customer experience!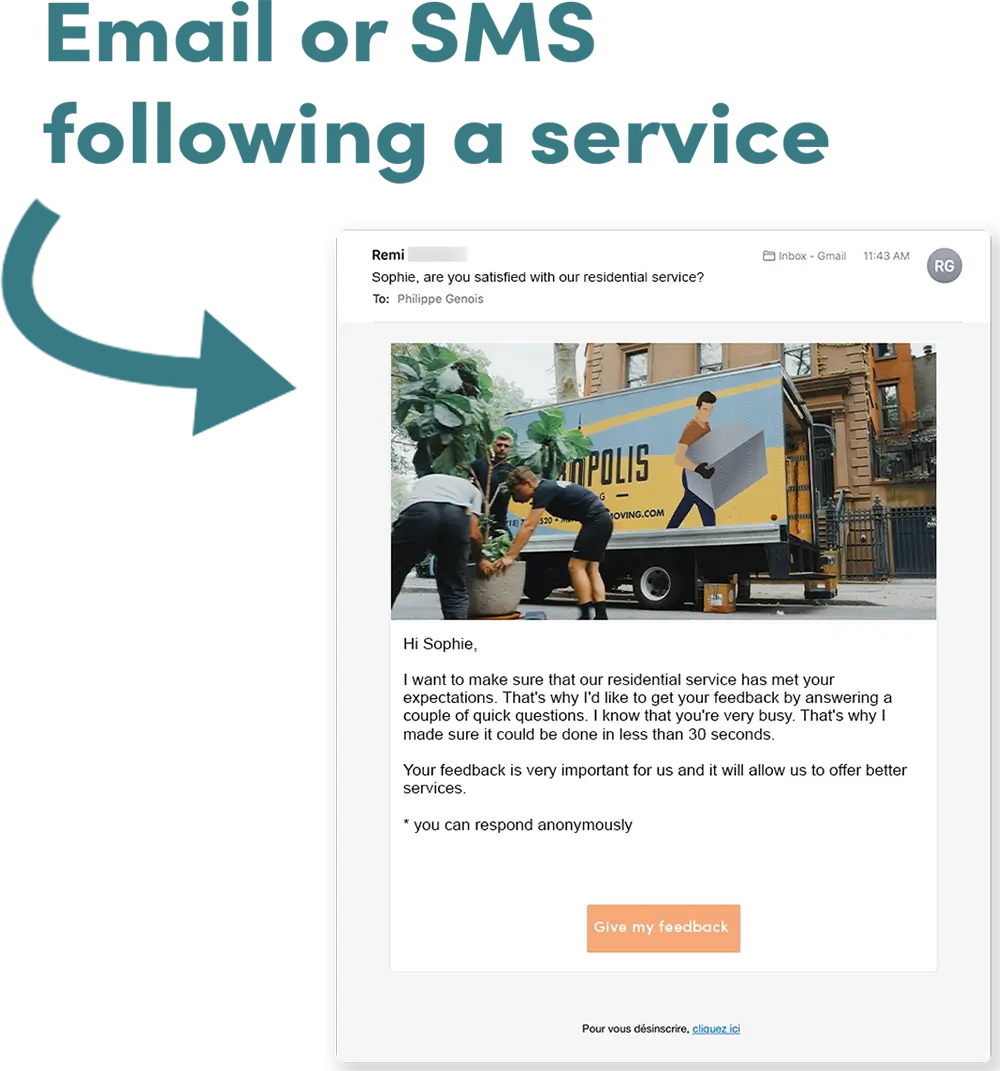 Also, did you know that InputKit also specializes in online reputation management? Our solution only targets your ambassadors. Thus, for each completed survey, you will be able to automatically invite your satisfied customers to leave you a positive online review. In addition, you will also have an online review widget to display your best customer feedback on the homepage of your website, an excellent tool to put your potential customers in confidence. 
Our solution also has a centralized and powerful dashboard where you can manage your online reviews. Our unresponded review filter and response generator will save you valuable hours of online reputation management. In just a few clicks, you will be able to respond to all your opinions according to the appropriate level of satisfaction. These are great tools to maintain a good brand image!
Finally, what are the different stages of the customer journey? And how can you optimize them to increase the acquisition and retention of your potential customers? 
At the awareness stage, when a potential customer inquires about a problem experienced, optimize your positioning on search engines in order to appear in the results. At the consideration stage, when they are looking for a solution to the identified problem, provide them with informative, free and relevant content to explain how your product/service can help them. At the decision stage, to encourage them to make the purchase, position yourself as a company of choice by highlighting your positive reviews, customer stories and case studies. Finally, after the purchase, at the loyalty stage, establish proactive communication with your customers by providing them with the necessary support and responding to your online reviews. This will allow you to maintain excellent customer relationships while enjoying greater credibility as a company!
Now, do you need help optimizing your customer experience? If this is your case, we invite you to schedule a free and personalized InputKit demo at the moment of your choice. Our team of experts is eager to help you improve your customer satisfaction rate!
Have questions about creating a customer journey mapping? If so, we invite you to check out the video below to become an expert in this field!