For consumers, buying a vehicle can be a long, complex, and exciting process! This process begins long before your customers arrive in the branch. This research can take several months until the final purchase of a vehicle at a car dealership. From this perspective, it's important for dealers to optimize their automotive marketing and online presence to help their consumers make an informed choice.
According to ThinkWithGoogle, 95% of Internet users search online before buying their car. Moreover, according to Canadian Auto Dealer, 40% of consumers decide to do business with a competing brand when a dealer does not have up-to-date information or special offers on their online platform.
In this sense, it is fair to say that consumers have become more critical of the customer experience when purchasing a vehicle. They actively seek information and reviews about the different car brands available to them so that they are ready to make their choice as soon as an appointment is made at a dealership. In this sense, the best way to improve your customer acquisition is to have a car dealer review software that will allow you to optimize your online presence.
The implantation of a good car dealer review software like InputKit can help you improve your e-reputation and customer follow-up. In return, you will increase the quality of your customer experience and your customer acquisition rate. Interesting, isn't it?
Do you want to face the challenges of owning a car dealership? Do you want to improve your customer experience? To help you, here are seven best practices to optimize your customer experience, as well as the benefits of implementing a good car dealer review software for your business.
The challenges experienced by car dealers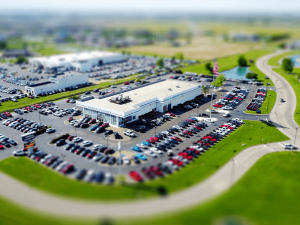 The process of purchasing a vehicle is now heavily influenced by the web. From the beginning of their research, your customers gather valuable information about the vehicle they want to buy. In this sense, thanks to online reviews, they know the brand, the model, the price, and the equipment they need as soon as they meet with the dealer. However, this information, online reviews and vast choices on the web are exactly why it is difficult to acquire and retain your new customers, especially without a car dealer review software.
First, it is well known that consumers sometimes have preconceived ideas about the process of purchasing a new vehicle. This particular perception of the sales process can discourage your prospects from doing business with your business, especially if you have few online reviews or neglect your brand image. As a result, your team must redouble its efforts to show your clients that it is trustworthy and that it actively wants to help them make an informed choice. A lack of recognition and trust on the part of your customers may undermine the motivation of your car dealers. In turn, they will not be able to deliver a customer experience that meets their full potential. That's why it's important to have good car dealer review software!
A second challenge for dealers is competition. It is increasingly difficult to attract customers in dealerships: the streets are full of competing brands, which can make it difficult to acquire new customers. In addition, it also becomes difficult to retain your prospects to your brand: few of them make appointments with your dealers before purchasing a vehicle. They prefer online information and reviews rather than arranging meetings with your car salespeople. To do this, you need exceptional automotive marketing, a quality customer experience and a good car dealer review software to stand out from your competitors and prove to your prospects your expertise in the field.
Finally, delivery times in the automotive industry have become crucial. They are a determining factor in customer satisfaction, especially when it comes to hybrid or electric vehicles. The high demand for these cars can create a wait of up to a year: such a delay will certainly influence your customer experience. With the rising cost of gas, commute, and hybrid car vogue, your prospects won't hesitate to look to a competing brand for additional delays. That's why you need to reduce irritants by reducing wait times when buying a new vehicle, if possible.

How can you attract people to your car dealership?
The changing shopping expectations and behaviors of your consumers can be complex to identify. In that sense, how can you optimize your processes to improve your customer acquisition?
To help you, here are seven easy tips for attracting new prospects to your car dealership:
Optimize your presence on the web: As previously stated, your online presence has a considerable impact on customer acquisition. To this end, it is crucial to optimize your online presence on your review platforms as well as through your social media. Answer your questions and reviews online, take care to optimize your platform for mobile devices and consider attaching calls to action to facilitate any contact with your dealers. Finally, optimize your local SEO to appear more easily in local searches of nearby users. These are things you can optimize when you have good car dealer review software!
Be in Google's first results with Adwords: Google's advertising channel is also a great strategy to reach your local consumers. Inexpensive and efficient, Google Adwords will allow you to appear in Google's first search results, which will greatly increase your online visibility. This is an asset in attracting consumers to your car dealership.
Collaborate with influencers: Want to maximize your online visibility? If so, we suggest you work with influencers to promote your brand. This tactic consists of exchanging a reward or a product – for example, the free rental of a vehicle – for the promotion of your company. As a result of this agreement, the influencer will introduce their community to your company and promote your products and services. This is a good way to generate new customers while promoting your brand.
Improve your online positive reviews: It is well known that Google prefers companies with a large number of positive reviews in its algorithm. In this sense, a car dealer review software like InputKit can help you increase your online reviews, allowing you to maximize your online visibility. In addition, these reviews will prove to your potential customers that you are a trusted brand. After all, 90% of your consumers check online reviews before proceeding with the purchase of a vehicle. A good car dealer review software is a necessary asset to overcome certain preconceived ideas of your prospects and improve your customer acquisition!
Deliver a quality customer experience to get references: In order to convince your customers to come back to your dealership, what could be better than giving them a quality customer experience? A free coffee, a comfortable waiting room and a warm welcome provided by professional employees will create a WOW effect that will let your customers know that their well-being is at the center of your priorities. You can also implement a car dealer review software to assess the quality of your customer experience and improve it as needed. This will generate a positive word of mouth that will definitely have a significant impact on your reputation and customer loyalty.
Run marketing campaigns through traditional media: To attract new customers to your dealership, look after your automotive marketing. Create ads in traditional media, such as television, radio, billboards, or even local newspapers. A short text with interesting visuals will set you apart from your competitors and catch the attention of potential customers. You could even add a few positive reviews to your ads to put your prospects in confidence!
Target key seasons in your marketing campaigns: Of course, vehicles must adapt to each season, especially in Canada. Therefore, don't hesitate to use seasonality in your marketing campaigns to show your prospects that you can meet their current needs. For spring, why not promote a light vehicle that consumes less gas? During the summer, put forward a family vehicle that has enough space to store a variety of luggage. In autumn as well as in winter, offer sturdy cars with tires that cling to the road. This way, you'll always have a recent model linked to your prospects' current demand!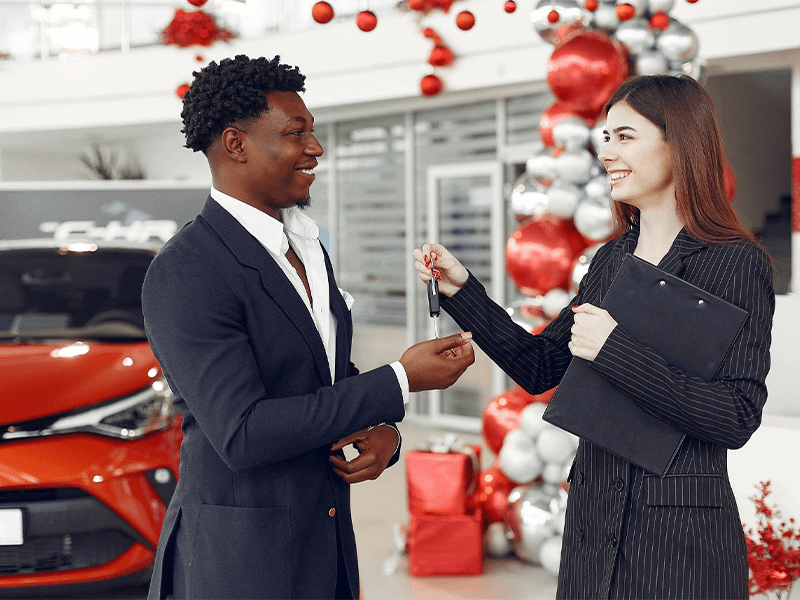 The benefits of InputKit as a car dealer review software
Running out of time to optimize your online presence? Do you want to simplify the management of your customer satisfaction surveys? If so, InputKit is the right car dealer review software for you!
With our online customer review improvement solution, you'll be able to assess your customers' satisfaction at the right time, one to two hours after an appointment with your dealers. In addition, our fully automated and personalized satisfaction surveys have a response rate of 49% by email and 57% by SMS. This valuable feedback is a gold mine to improve your customer experience and set you apart from the competition!

Following a customer satisfaction survey, you can ask to your satisfied customers to leave you a positive Google review to attest to the quality of your services. If you are afraid to handle such reviews, don't worry: our solution is equipped with artificial intelligence that responds in an automated and personalized way to your online reviews. All this is accompanied by centralized management of your reviews as well as a filter for non-responded reviews. In this sense, our car dealer review software is a must for optimizing the management of your processes and building a relationship of trust with your customers.
In the same vein, following a survey, you will also be able to cross-sell with your satisfied customers. For example, offer them equipment related to their recent purchase at your dealership, or remind them that it's time to make an oil change, install winter tires, or even perform a complete check of their vehicle. This is a great way to do an effective follow-up of your customers while generating additional revenue.
Finally, InputKit can also help you evaluate and motivate your car dealers. After all, your staff is made up of dedicated and committed people who give their best to provide your customers with the experience they deserve. In this regard, why not share with them their successes and positive feedback to show them how much their efforts are appreciated?
With the help of a car dealer review software like InputKit, you will be able to share with your sellers the positive reviews and comments of your satisfied customers to better direct them in their work. As attested by Point S – Pneus Carignan, this is a great way to motivate your employees and show them that their good service is appreciated!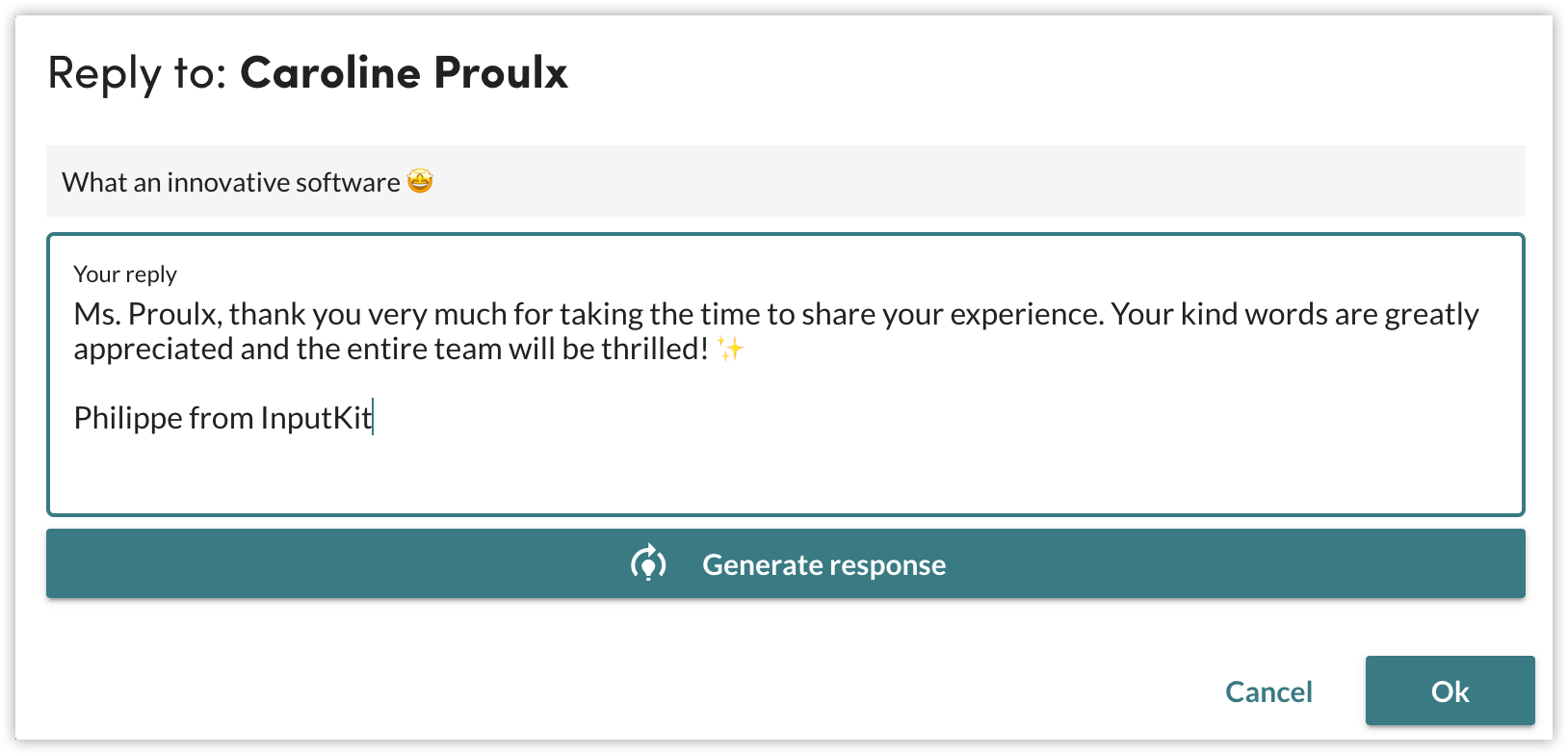 While attracting new customers to dealerships can be challenging, we advise you to follow our best practices to improve your processes.
Improve your online presence by optimizing your local SEO and increasing your positive reviews. Plan seasonal marketing campaigns in a traditional way to appear in newspapers, radio, TV and billboards to get the attention of your local customers. On the web, focus on Adwords and collaborations with influencers to increase your online visibility and gain new leads. Don't forget to provide a quality customer experience that will make your customers want to recommend you to their loved ones and come back to your company!
Finally, equip yourself with a good car dealer review software like InputKit to facilitate the follow-up of your current customers through satisfaction surveys. These surveys will provide you with valuable data to improve your online and in-store customer experience.
Additionally, our solution will definitely increase your online reviews. A car dealer review software is a must to increase your acquisition and customer retention.
Now that you know our tips for attracting your customers to dealerships, do you need help improving your customer experience? If so, feel free to schedule a free and customized demo of our solution with our experts of the subject!